You will agree with me when I say that:
Having the right suspension is inevitable, if you are into off-roading!
When talking about suspensions, there's no better option than Rancho suspensions. With decades of experience and expertise in research, development, and manufacturing of shocks, the company sure has earned a decent market reputation in off-road suspension. This article is a detailed rancho RS5000X vs RS9000XL review which will cover different aspects.
Rancho RS5000 Review:
The rancho rs 5000X come with progressive engagement valves which include rebound and compression discs. This allows the eccentric discs located in the valve stacks to engage at lower frequencies. This comes in handy in controlling the energy of motion given the fact shock cycle increases or decreases. The progressive engagement valve also guarantees the early flow of fluid the moment your truck or SUV stumbles across a pothole or any other off-road trail obstacle.
| Features | Benefits |
| --- | --- |
| Progressive Engagement Valving | Reduces Hard Initial Impacts |
| Enlarged 2-1/4-inch Twin Tube Body | Enhanced Performance at Varying Speeds and Terrains |
| Full-Displaced 35 mm Bore | Provides Hightened Control |
| Protective Boot | Guarantees Protection During Off-Roading |
Also, read our guide on Best Jeep Soft Tops.
The rancho 5000x also features a custom-tuned compression control valve. The valve features a clamped disc, which eventually helps a lot in regulating fluid transfer in the wake of the shock compression cycle. This helps a lot in absorbing impacts while avoiding disc flutter at the same time. In addition, It also guarantees complete harmony of motion of shock and movement of the vehicle during off-roading.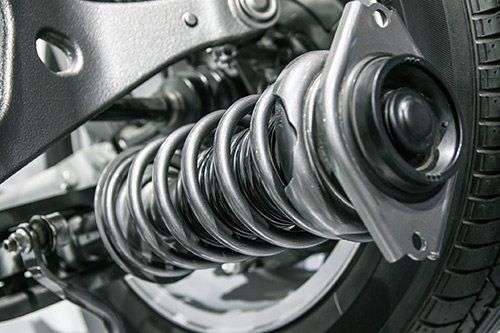 The cherry on top, these rancho 5000x shocks are gas pressurized. The pressure amounts to 150 PSI. The pressurized shocks have considerable leverage over non-pressurized ones as they can easily minimize air to oil mixture. Aside from this, pressurized shocks also help a lot in preventing shock fade and foaming. The pressurization of shocks also provides a mild boost. The shocks also feature a nitro-carburized rod, which plays an ideal role when it comes to protection against increased scuffing. They also provide additional protection against corrosion. Not to mention rancho rs5000 lift kit, which adds to your vehicles comfort levels.
These shocks are also fully displaced, up to 35 mm Bore allowing increased control during shock motion. The 35 mm bore displacement expands the piston area. This way, the shocks get to displace more fluids than any other traditional valve shocks in the market. The shocks also feature black rubber bushings, which are highly influential in absorbing additional ride harshness. The rubber bushes also reduce any additional road noise which guarantees a smoother ride and longer shock life The shocks also feature a self-lubricating low friction seal which Prolongs performances and guarantees easy compression and a quicker rebound. Each of these shocks comes with a fluent banded piston which is glass-filled. This allows efficient responsiveness coupled with smoother piston travel. The shocks also contain double-welded loops, placed on strategic areas. This adds to their durability and strength.

Rancho RS5000x vs RS9000xl Comparison
| FEATURES | Rancho RS5000X | Rancho RS9000XL |
| --- | --- | --- |
| Increased Fluid Capacity | No | Yes |
| Tube Body | Twin Tube Body | Tri Tube Body |
| 9-Position Tuning Technology | No | Yes |
| 9-Position Adjustment Knob | No | Yes |
| Gas Pressurization | No | Yes |
| Diameter Sintered Iron Piston | No | Yes |
| Self-Lubricating Seal | Yes | Yes |
| Double-Welded Loops | Yes | Yes |
Rancho RS9000xl Review:
| Features | Benefits |
| --- | --- |
| Nitro-Carb rod | Increases scuffing resistance |
| 9-Position adjustment knob | Provides a clear understanding of tuning level |
| Rebound Bumper | Helps control the rebound motion |
| Liquid metallic finish | Premium long lasting finish |
When it comes to Rancho RS9000xl specs, you must know that their performance is no less than nine regular shock absorbers combined. These best price Rancho RS9000xl provides another user with the diverse option of selecting 9 separate performance levels.
Also, read our guide on Jeep vs SUVs
The shocks have an overall diameter of 70mm and are ideal when it comes to aspects like appearance and performance The rancho rs9000xl settings adjustment is also not an issue, given the fact that it has a 9 position adjustment knob. The adjustment knob allows a clear and thorough understanding of turn levels.
In addition to this, rancho shocks rs 9000 are gas charged. The gas pressurization of these shocks reduces air to oil mixture to a safe level. These shocks also come with a pre-installed protective boot. This aids a lot in providing additional protection for oil seals and shock rods.

Also, the shocks have a very low friction threshold. This comes in very handy as it plays a very major role in preventing the accumulation of any sort of debris and dirt. Besides, these shocks have a liquid metallic finish, which not only is of premium quality but is also very long-lasting
The shocks also offer high cultural conformity, thanks to its sintered iron piston, which is 1-1/4 in diameter. The Rancho RS9000xl also features polyurethane bushings. These are highly famous for increased shock performance and long-lasting On the level 5 adjustment, these shocks will provide you a nice sporty feel and will be able to muffle rough terrain without extended trouble The stiffest setting on these shocks is levels 9 adjustments, however, it is ideal when you plan on towing the vehicle as they can easily absorb any sort of bumps
The shocks also aid a lot in controlling the rebound motion in the wake of any rash driving. Also, its double-welded loops add to its durability and strength. Also, cab adjustment in Rancho RS9000xl is super easy. All you would have to do is start turning the knob in a counter-clockwise direction, and from there on, you can proceed to fine-tune at your discretion

Final Words:
Driving around the town with shocks that are either substandard or worn out has severe safety implications. Driving with worn-out shocks only adds to the chances of a fatal road accident. However, this Rancho RS5000x vs RS9000xl article will surely make it easier for you to decide which one to go for.
Frequently Asked Questions
Are Rancho Shocks Gas-Charged?
Yes, rancho 9000xl shocks are charged with nitrogen gas. Being nitrogen gas-charged helps a lot when it comes to optimizing shock performance and durability
Rancho 5000 vs 7000 vs 9000, which one is better?
While it is highly dependent on the type of vehicle and terrain, when it comes to rancho 5000 vs 7000 vs 9000, rancho shocks rs 9000 definitely take the lead.
Who Makes Rancho Shocks?
All of the rancho products are marketed and manufactured by Tenneco Inc. The company also enjoys a positive reputation when it comes to emission brands, exhausts e.t.c
Rancho RS9000xl vs Bilstein 5100, Which One is Better?
When it comes to Rancho RS9000xl vs Bilstein 5100, Bilstein 5100 takes the lead. Even though both shocks are made of steel, Bilstein 5000 is sturdier. With Bilstein 5100, you will be getting a firmer shock. Its form control provides ultimate performance and is best suited for heavy trucks. Also, it is zinc plated which adds to its sturdiness, which really puts Rancho RS9000xl vs Bilstein 5100 debate to rest.
Source:
Impact of Worn Out Shocks.