I hope you agree with me when I say:
A smooth and safe ride is all that one looks forward to while driving.  
Are you a jeep lover? If yes, you must be adventurous too. People normally keep jeeps for off-roading and safari. That is exactly why it is important for the ride to be bump-free and smooth. That is what ball joints help with. Ball joints basically connect the steering knuckle with the axle, which allows the knuckle to rotate so you can drive your jeep. These allow you to have control over your vehicle and ensure a smooth journey and safe journey. We are listing the finest Jeep JK ball joints to help you decide quicker. Read till the end to find out more about ball joints and how they work. You will also find a video and some FAQs regarding this.
So, let's find you some of the finest Jeep JK Ball joints.
Things to look for when buying:
Material: Always go for premium heat-treated steel as it can withstand harsh temperatures and will last longer than usual. You never know what all the jeep will have to go through. Therefore, it is difficult to figure out the temperature underneath the vehicle as well. So, it is best that you choose the best material for better results!
Get the right toolset: If you are going to replace JK wrangler ball joints yourself, it's always better to research and get the correct tools for this job. For that, you can either buy the ball joint replacement kit that we have listed in our guide or visit the local part store to get rent one out.
Type of Jeep: For you to purchase ball joints for your Jeep, you should have an understanding of your vehicle.
Best Ball Joints for Jeep JK 2022
Here are some of the top-rated Ball joints: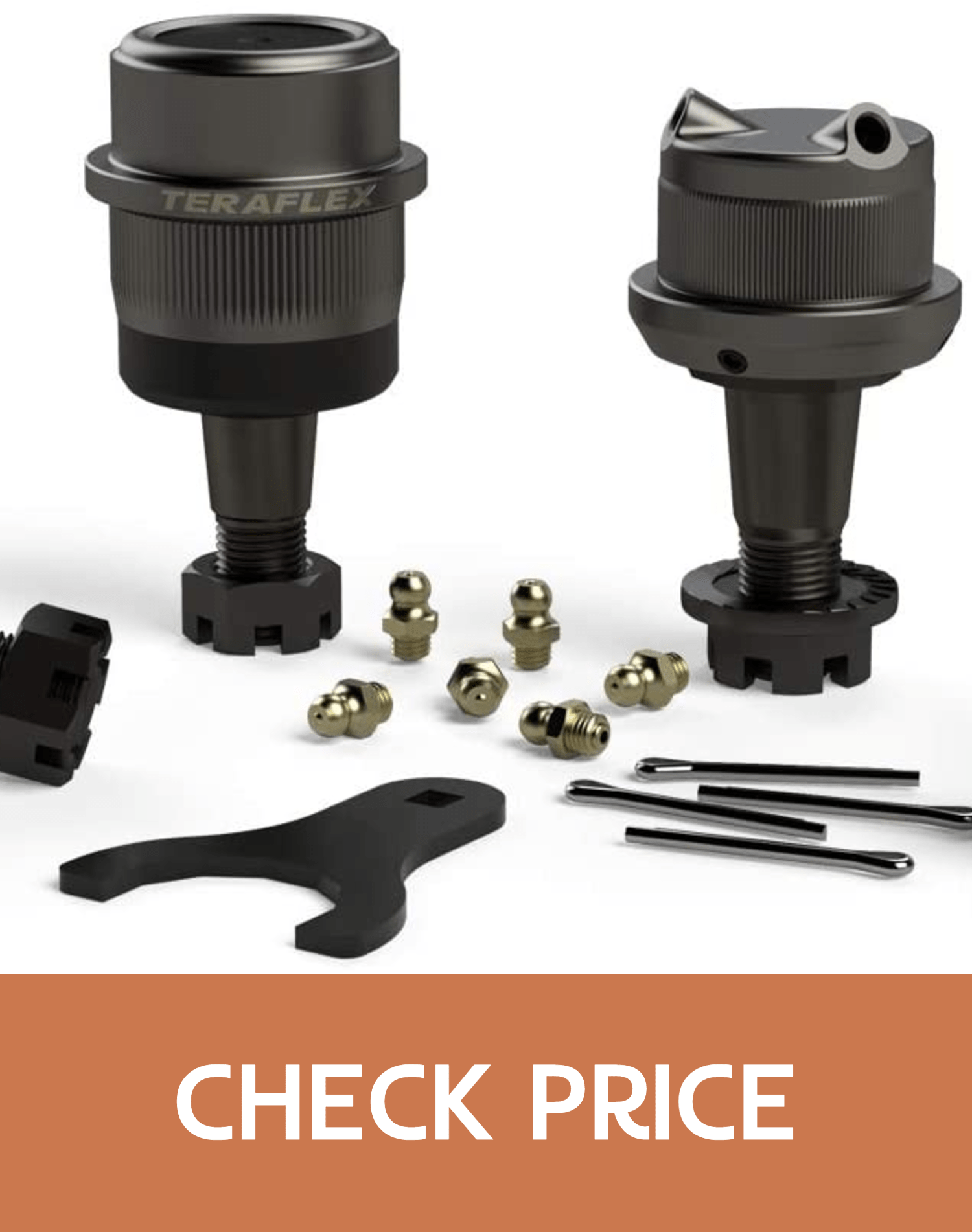 Why we love it? 
Corossion resistant.
Can handle extra side load well.
Can be easily greased.
Easily adjustable
Durable

| Pros | Cons |
| --- | --- |
| ✔️ Easily adjustable. | ❌May require some professional help for installation. |
| ✔️Reduces death wobble. | |
Enhance the looks and functionality of your Jeep even more with these
premium Jeep Antennas
on the market.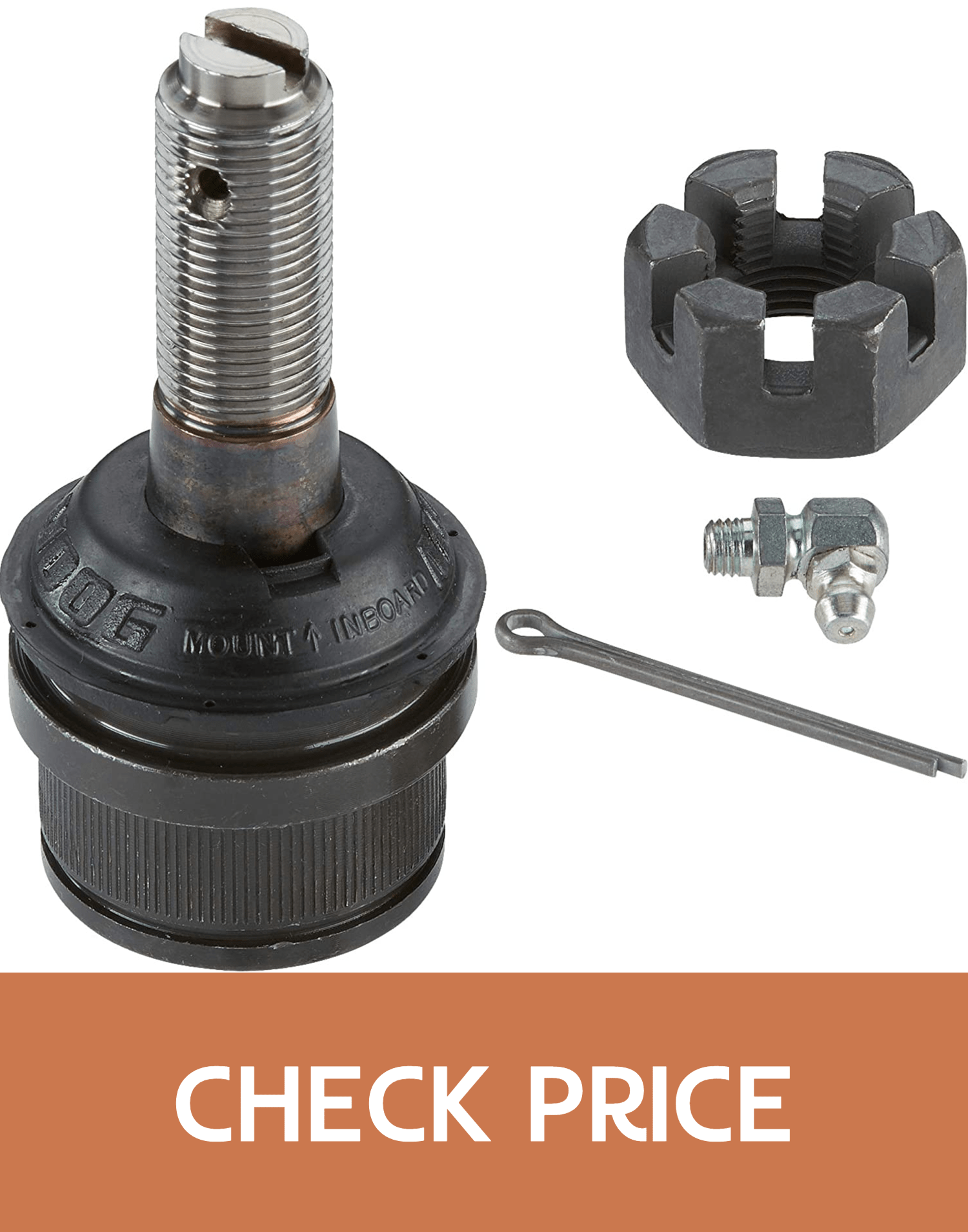 Why we love it? 
Functional design.
Tough and durable.
Basic installation.
Metal-to-Metal design
Reduced friction

| Pros | Cons |
| --- | --- |
| ✔️ Easy installment. | ❌ None. |
| ✔️ Problem solver design. | |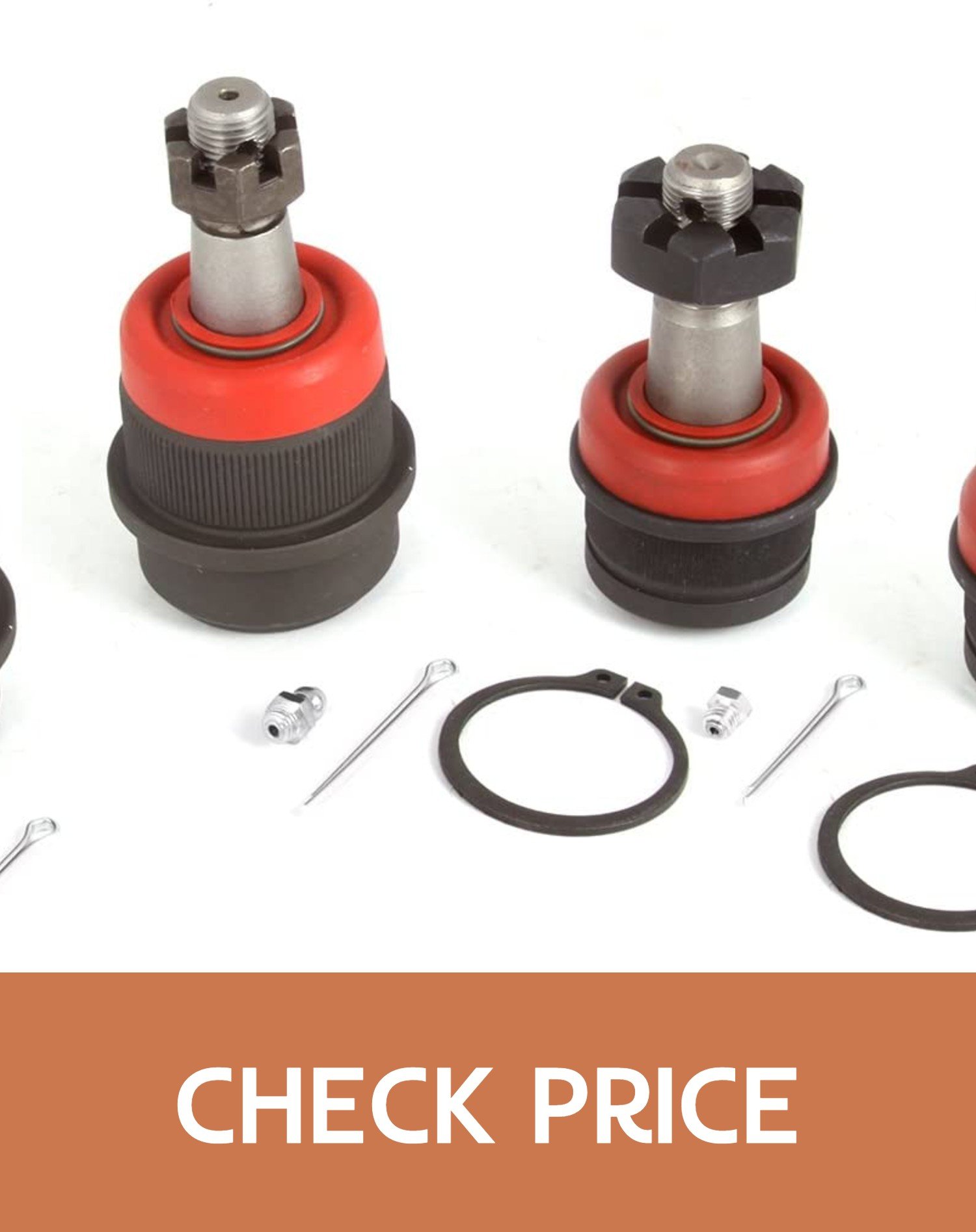 Why we love it? 
Reduces wobbling.
Solid and sturdy.
Threaded Preload system. 

| Pros | Cons |
| --- | --- |
| ✔️5 year warranty. | ❌ Not for rough application. |
| ✔️ Simple installation. | |
Why we love it? 
Fit perfectly well with Dana 30 and 45 Axle
Complete Set for Jeep JK ball joint upgrade
Durable build quality
Easily affordable
Made for offroading

| Pros | Cons |
| --- | --- |
| ✔️Sporty Design | ❌Might not take extreme off-roading |
| ✔️Good Pricing | |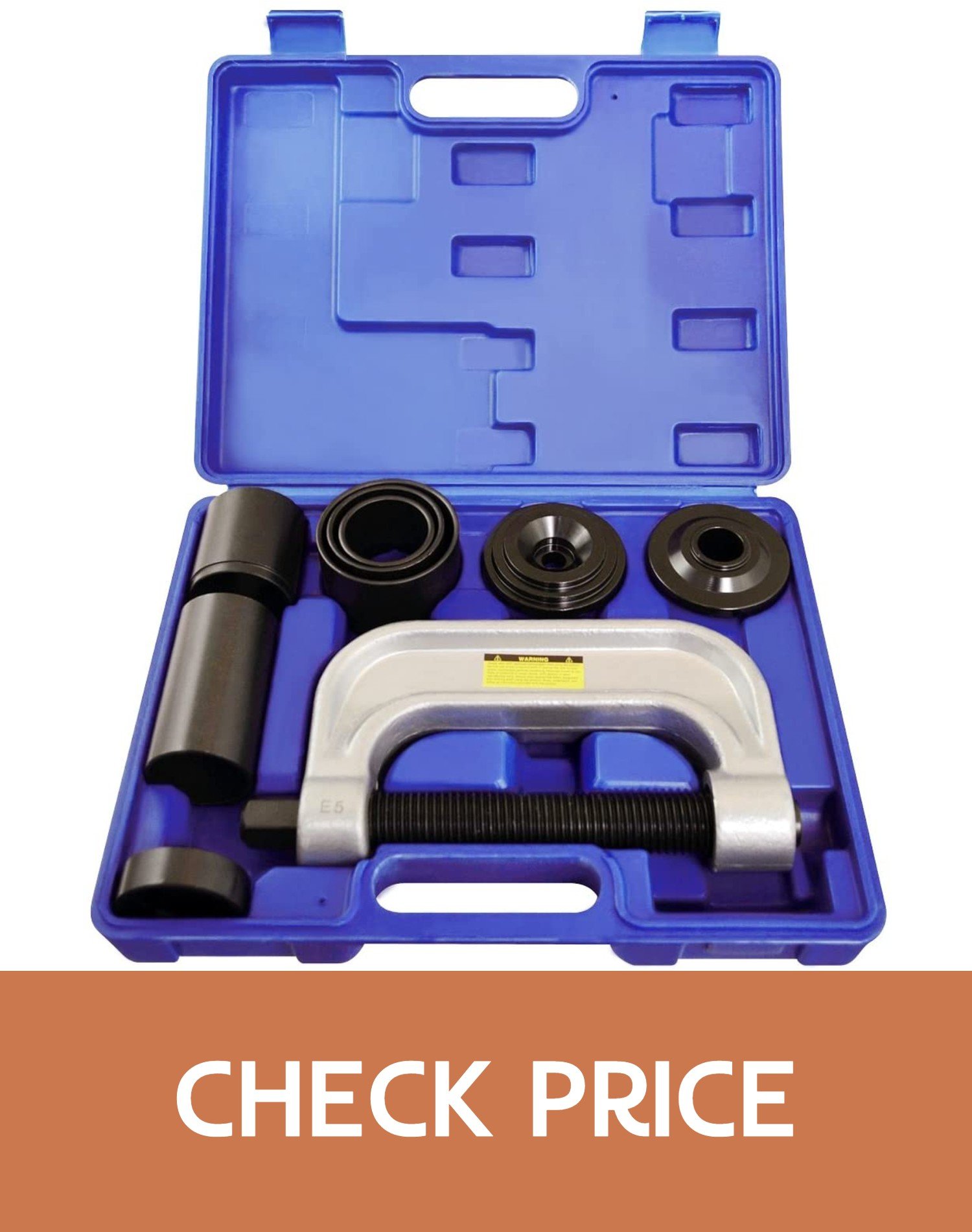 Why we love it? 
Works well in removing rusted parts.
Heavy duty and functional.
Complete kit.
Case for storage and transport

| Pros | Cons |
| --- | --- |
| ✔️ Safe storage. | ❌ None. |
| ✔️ Simple installation. | |
Conclusion:
Now that you have reached the end of this article regarding the best ball joints for jeep JK, we are sure that you must have gained an ample amount of knowledge and information regarding this topic. This means that you can now make a well-informed decision regarding which ball joints to get for your jeep to aid your convenience to the maximum potential.
So, the next step that you need to take is that you need to to go through the list of the best ball joints for jeeps that we have provided above and take a careful look at their specifications. Then only you will be able to decide which ball joint is most suitable according to your personal circumstances and needs. Once, you do this, you will be set to go and purchase ball joints for your jeep from Amazon!
Also, be sure to tell your friends about this article as well. Especially the ones who own jeeps and regularly venture out into the world in their jeeps to take a break from life. The more people who can benefit from all the information we have provided in this article, the better, right? So, do not be shy and go ahead and do so!
If you liked this article, you'll like our related articles as well. Check out these: Jeep Wrangler Snow Plowing: Can it Work? [Guide], Jeep vs SUV: Which is Best? [Comparison].
Things to consider before buying ball joints for jeep
Ball joints might seem like a small part but they do play an important role in steering stability and ignoring bad ball joints for a long time can be dangerous. They are crucial for connecting various links in your suspension and if the link fails at high speed, you might end up having a catastrophic crash. So replacing them is a must but getting an OEM spec premium one is a necessity as well. So, keep the following things in your mind whenever you plan on purchasing ball joints.
Material
Material is the first thing that you need to keep in mind while purchasing ball joints for The build of the ball joints determines whether it is made for heavy-duty operations or not. If is it made out of a strong material such as steel, it means that the ball joints will be durable and sturdy.
Types of Jeep
It is extremely essential to have an understanding of your vehicle whenever you are purchasing ball joints for your jeep. There is no denying that you can easily get ball joints for any model, it is best suited if you get the one specifically made for your jeep. For example, if you are purchasing steering, you would buy the one that is made for your vehicle. Similarly, in the case of ball joints, you should preferably get the ball joints made for your vehicle. Moreover, this will also ensure that the piece fits your jeep perfectly.
Factor in the Replacement Cost
Usually, mechanical work is not cheap, and if you're not one of those people who prefer a DIY job instead of professional help then considering the jeep ball joint replacement cost is a must. Since you need to factor all this into your ball joints budget. Ball joints are not so complicated to replace, so the replacement cost is usually around 300 to 400 dollars if you factor in the labor charges as well. We do recommend getting the part separately so you can choose the most premium one.  Without the cost of the parts, the Jeep JK ball joint replacement labor cost will be around 100-150 dollars. However, please make sure to get your ball joints replaced by a credible mechanic because they are crucial pieces of equipment.
In case you are interested in learning how to check and replace jeep jk ball joints, watch this:
Frequently Asked Questions
What happens when a ball joint goes bad?
When your ball joints start going bad, you'll often start getting symptoms from a very early stage. The first thing that you will come across is a clunking sound from your suspension especially while driving over bumps or going around corners. Moreover, For ball joints, death wobble or vibrating steering is another symptom that should not be ignored. Your vehicle can drift left or right when ball joints are worn. To check if your ball joints are worn, jack up your car and try to wobble your tires by holding them from top and bottom, if there is play in it that means your ball joints are worn. For more info on diagnosing, check out this resource.
Furthermore, you will notice uneven wear on your tires as well. But the thing to remember is, car drifting to the side or uneven tire wear can be a symptom of bad alignment. So, a pro-tip for you is, get your alignment checked by a pro and ask them to overview the ball joints first. If your ball joints are worn, chances are they'll ask you to replace them first otherwise your car will keep getting out of alignment or if your tires are worn from the middle, it might just be low tire pressure.
Can I drive with a bad ball joint?
Driving on a bad ball joint is not recommended. Some suspensions rely a lot on ball joints to keep your vehicle smooth and steady. When a ball joint completely fails and you keep on driving with it. There are higher chances of your overall suspension to fail and you can end up in a catastrophic crash. Of course, this doesn't mean that you should worry about a catastrophe with early symptoms, however, replacing them periodically is always recommended.
How long do Ball joints Last?
The expected interval of ball joint replacement is between 75000 to 140000 miles, however, it depends on the usage as well. If you're constantly driving through rough terrains, your ball joints can fail prematurely just like any other suspension parts. So, if you come across any of the mentioned symptoms of feel play in your tires, it's better to replace it sooner rather than later.
Who makes the best ball joints?
We cannot pinpoint a single brand that makes the finest quality ball joints, however, if we overview this list. The most credible brands in this list are Moog and Teraflex
What does it cost to replace ball joints?
The overall replacement cost for Jeep Wrangler ball joints can range from 300-450 US dollars.
We hope you get your hands on the best ball joint for your jeep JK and enjoy a smooth ride!