Suspension upgrade is one of the hottest topics among off-roading enthusiasts, while extreme lifting might require you to dig deep in your pockets but a small upgrade can be a viable option for most of us. Now that we are on the subject of giving your suspension a lift, who can forget the most notorious vehicles for lifting right? JEEPS!
That's right, even the non-jeep enthusiasts can agree that Jeeps set up the benchmark for lifting, and Jeep XJ holds its own among these tough contenders. But to start with, giving your Jeep XJ a 2 Inch lift is a good idea instead of going all out. Always, opt for the "One step at a time" approach. Of course, XJ 2 inch lift is not for experts, it's more of a beginner-friendly approach.
Since our article is focused more on newbies than experts, we aim to provide all the basic information on this topic and suggest some good jeep XJ 2-inch Lift kits for your ease.  Moreover, you can get information regarding some extreme options for Jeep XJ lifts for your future endeavors,
Jeep XJ 2 Inch Lift – The Basics!
If you have landed on this article, chances are that you already know about lifting or you saw a lifted jeep and thought "Well, I should do that as well". However, if there is an off chance that some of you don't know about the basics of Jeep XJ Lift or lifting in general then here is a crash course.
Crash Course on Lifting
Before you start giving a boost to your Jeep XJ suspension, it's better to learn what exactly is lifting. That is, well… if you don't already know. Lifting, in simple words, is raising your vehicle suspension a bit to conquer some rough off-road terrains better. While a 2-inch lift kit in jeep grand Cherokee, XJ, etc might not give it extreme off-roading capabilities but it can give it a small boost. Although some vehicles come pre-lifted from the factory, it's not the case with XJ, so the Jeep XJ lift kit is the only option.
Lifting not only makes your vehicle perform better on off roads it also makes your Jeep looks bulkier. Most of us just opt for lifting for that reason only. However, cosmetics are not the only reason for Jeep XJ 2″ lift, it opens up options for better struts, bigger tire size, which in turn can provide better stability, ground clearance for off-roading, and best of all provides you the capability to install bigger tires.
While the 2-inch lift is just the basic body lift that can only provide small benefits such as bigger tire size and a bulkier look but you can always upgrade to a better and more extreme lift. But what are the types of lifts that are available? how can you install them? Having these thoughts? Let's shed some light on the types.
Types of Lifts
There are many different types of lifts that can be applied to your jeep, starting with just the basic jeep XJ body lift ranging from 2-3 inches, you can push it towards 6.5 inches. However, that's only if your pockets are deep enough and it's not just about pockets, it's about your enthusiasm and motivation for going extreme. The good news is, for any kind of Jeep XJ lift upgrade, you can find kits on the market in different price brackets.
But before you go bonkers and start spending, a bit more information on types of lifts is necessary.
Lifting your Jeeps Body up and Spacers (1-3 Inch lifts)
The most beginner-friendly and cheap jeep XJ lift that you can perform is body lifts or spacer. Jeep XJ itself is pretty bulky looking and a 2″ to 3-inch lift can easily make it better at a low cost. A body lift only requires your to spend some extra dollars to add extra space between your body and the frame.
Sounds easy right? Well, practically it's not! You need to install extensions that might require professional tools and help. However, the thing about just body lifts is that they are purely for cosmetic purposes, they don't increase your ground clearance or provide any extra benefit while off-roading.
Now, on the other hand, Spacers can give you a 1-2 inch boost in your vehicle's ground clearance and does not require massive modifications. In simple words, you just put spacers on top of your coil springs to lift your vehicle a bit. This is a very common and affordable practice for Jeep XJ 2inch lift to increase tire size.
For both body lift, and spacers you spend a few bucks but in our opinion spacers are a better option in this price bracket than the XJ body lift kit.
Medium to Extreme lifting – Coil Spring lift, Short Arm lift, and Long Arm lift (3.5-6.5 Inch lifts)
Our guide is primarily focused on Jeep XJ 2 Inch lift kits which do not require any of these options but what is the harm in learning right? Well, if you are a true off-roading enthusiast and are not just looking to increase the tire size and cosmetics of your vehicle, then opting for any of these options is the way to go.
However, remember, they are not the most budget-friendly jeep XJ lift kits that you are looking for. But even in this Jeep XJ lift kit review, I feel that it's necessary to scratch the surface of these options.
Coil Spring lift is more of a budget-friendly and easy option in this, of course, it's might not be the cheapest Jeep XJ lift option that you are looking for but it will provide your vehicle a lift up to 1.5-3.5 inches. What you do is, you can your coil springs and give your vehicle a boost, and get some good off-roading performance out of it. However, for McPherson struts, you might need to opt for better shocks as well.
Next on the list are short arm & long arm lifts, both of these lifts are for extreme off-roading enthusiasts. an XJ jeep lifted with these can truly work wonders off-road.  Short arm lift kits include coil springs, with additional longer front and rear control arms. These can help you boost your vehicle up to 3-6 inches. These kits have a drastic effect on your Jeep XJ suspension, unlike the Jeep XJ body lift kits. So, using them as a daily driver is not recommended, since you'll feel the difference in center of gravity and driving.
All of these lift kits aside, the best jeep xj lift kit that you can install is the long arm lift kit. These lift kits are for pros and can lift up your vehicle to about 6.5 inches. But these are not cheap XJ lifting options, because you need heavy-duty aftermarket control arms and professional help to install these. These have the ability to crawl and conquer every terrain there is. Installing these kits is not a walk in the park, as it requires welding and pro to install these. So, forget about daily driving with these. They are not like Jeep XJ 2inch lift for installing 31s only.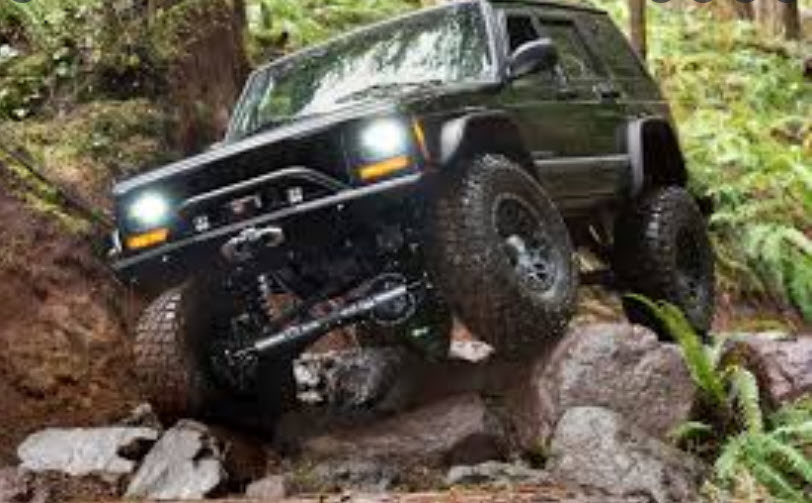 Interested in more guides? Check out our detailed guide on Anti-spin Differential  Rear Axles
Jeep XJ 2 Inch Lift Kit Recommendations
After learning all the basics, your interests must have piqued, I know I know, you are most probably thinking about medium to extreme lifts. But hold that thought, again "slow and steady wins the race" so take one step at a time.  Giving your Jeep just the 2-inch lift can help you increase the tire size, and improve the cosmetics look of your jeep as well.
Plus a bit of ground clearance can be gained. With just a scrape on your bank balance, you can achieve Jeep XJ 2 inch lift and install 31's or even 32's in some cases on your vehicle. But before you buy a lift kit, you need to consider many factors, the most important being the build quality and installation ease. Since it's a suspension component, it can have an effect on the vehicle
When it comes to quality suspension parts for Jeep some credible brands such as rough country, supreme suspensions, etc. come to mind. But finding a full 2-inch lift kit for Jeep XJ from some brands such as Rough Country is hard so we recommend the latter. By reading Jeep XJ lift kit reviews, our recommendation is the following supreme suspension product lifting your jeep up fully, and if you are looking to lift it up from the back only, we recommend Rough Country shackles.
Supreme Suspensions – Full Lift Kit For 1984-2001 Jeep Cherokee XJ (Recommended)
Why we love it?
High-quality material with all the required stuff
Can fit any 4wd Drivetrain on Jeep XJ
Comes with all the installation hardware and Instructions 
Just take 3-4 hours for installation with minimal expertise. 
Maintains factory riding quality even after installation.
| Pros | Cons |
| --- | --- |
| ✔️ Budget-friendly lift kit | ❌Instructions are not suitable for amateurs |
| ✔️Shackles are a very tight fit in the frame | ❌Did not come with shackle bolts |
| ✔️Bushings can be greased | |
| ✔️Maintains factory-level ride quality. | |
Installation tips on Jeep XJ 2 Inch Lift Kit
Now that you've decided on your vehicle a lift and bought yourself the best Jeep XJ lift kit, it's time to install the suspension components. The thing about installation is, it's not a job for pure newbies, however, if you still are willing to attempt Installations. These tips and resources might help you out, along with the installation instructions.
First thing first, what do you need to make sure that you have all the necessary equipment to perform this installation, that is if you are installing it yourself. you should have these parts handy since most lift kits require these for installation.
5/8" Wrench/Socket 

8mm Wrench/Socket 

8mm Allen 

10mm Socket/Wrench 

13mm Wrench/Socket 

16mm Socket 

18mm Wrench/Socket 

19mm Wrench 

21mm Wrench/Socket 

22mm Deep Well Socket 

24mm Wrench 

32mm Socket 

Jack 

Jack Stands 

Torque 

Wrench 

Hammer 

Strut 

Compressor
The good thing is, you don't necessarily need to purchase these parts, you can rent them out from you local parts store.
For installation, follow the instructions carefully and watch the video below to familiarize yourself with the modifications that you need to perform.
Even if you are getting your lift kit installed from the workshop, make sure to check all the required hardware before making an appointment. Other than that, installing 2 inch XJ lift kit is not that hard and can be a fun DIY project, however, it requires a basic knowledge of vehicle maintenance is still recommended.
Moreover, before you install your lift kit, or get it installed, it's better to get your vehicle properly cleaned, and rust spots removed with any penetrating fluid. Any weak spot can cause issues with your Jeep.
Confused about getting new tires for your Jeep? Check out our comparison on two credible brands Duratrac Vs KO2
Frequently Asked Questions
What is a good size lift for a jeep?
There is no definitive answer to this question, it all depends on your requirements. Basically, the perfect Jeep XJ lift can be achieved when you have some goals in your mind. What do you want to get out of this vehicle? Do you just want to lift it to fit new tires, or make it look better, or do you want to take it off-road? Moreover, what kind of off-road adventures are you hoping for? Are you just going to take your jeep to muddy tracks or take it crawling rocks?
All these questions will make you decide on the perfect lifting option for your jeep. In this jeep XJ lift guide, we have covered all the options that are available to you. All you need to do is decide and make budget for your perfect ride.
XJ 2 inch lift vs No lift, which one is better?
Lifting is basically an alteration to the stock suspension, you will always feel the stock suspension is better but again, it depends on your requirement. If you don't mind a bit of alteration in your ride quality then lifting can give you better off road capability, better tire size and best of all better looks.
Should you opt for a cheap Jeep XJ lift kit?
There is no harm in saving money while purchasing yourself a lift kit, but always read reviews and opt for premium quality ones, even if they are cheap. Because your ride safety relies on these components, and if you opt for the cheapest Jeep XJ 2 inch lift kit, the results can be catastrophic.
Is lifting dangerous for your ride?
Lifting is not dangerous if high-quality parts are used and all of them are installed properly. Make sure to clean your vehicle beforehand, and remove any rusty spots to avoid any catastrophe
Are factory kits better than Custom Jeep lift kits?
Factory lifts are built to specs and manufactured with all the proper engineering in place, so obviously they can be better but they do have limitations when it comes to off-roading capabilities and customizations. So, all-in-all, third-party ones can perform better off-road since they are most customizable.
Can Jeep XJ 2 inch lift kit support 31s?
With simple 2 inch coil spacers and shackles,  Jeep XJ can easily support 31's.
Conclusion
In this Jeep XJ lift guide, we have covered some basic info about performing Jeep XJ 2 Inch lift, it does not matter whether you are just lifting it for cosmetic purposes or you want to take your jeep to some serious off-roading adventure, we have covered all the basics. If you're ready to increase your adrenaline and have some extreme off-road adventures then give your Jeep XJ a boost now!
Sources