I hope you agree with me when I say:
"An off-road air compressor is a great tool to have, especially if you need to inflate your tire or travel accessories on the go"
Air compressors are a great way to increase your traction in rough outdoor conditions. When you go off-road, it's compulsory to air down your tires prior to wheeling.
Regulating air pressure for an extended period is a great way to ensure your car tires' durability. The number one way to do that is by incorporating an off-road onboard air compressor.
Additionally, they are a great tool for your vehicle and an essential component of any travel gear. You can use them to inflate your seat or air mattress whenever you go out camping. This multi-purpose functionality is what makes them high demand in the market. That's why today, we will be looking at the six best off-road air compressors that you can get in 2022. If you need additional information, make sure to check out Buying Guide
We will be looking at models in different budget ranges. We will be able to answer whether it is worth spending the premium cost for a high-end model. Also, if you need additional information on vehicle-related stuff, then make sure to check our previous articles such as Jeep JK 33 inch Tires Stock Wheels – How-To Guide or 7 Best Off-Road Tires for Jeep in 2022. So, without further a due, let's get into it!
Things to consider before buying: 
Air Pressure Or PSI unit, There are no second thoughts that inflation requires some sort of pressure. This pressure is typically represented in some sort of a unit, i.e PSI which is incorporated by many household equipment. The portable or compact air compressors usually integrate small PSI values so they can be transported easily. That's, why they can't, perform quite optimally on large truck tires. If you have small 31 or 32s tires then they will be more than enough. In contrast to that, users with heavy-duty tires, are better off with a unit with higher PSI functionality.
Overall Size of Air Compressor's Tank,  Just like air pressure, the tank size does matter in buying an off-roading compressor machine. Generally, the larger is the tank capacity, the greater will be the performance of your device, which will ultimately save you extra time. That's why recommend you in getting an ideally sized tank for the air compressor. Anything too bigger will make it less portable while having too small carrying capacity will ultimately ruin your experience in off-road conditions.
Best Off-Road Air Compressor 2022
Here are our choices for top-rated off-road air compressors in the market.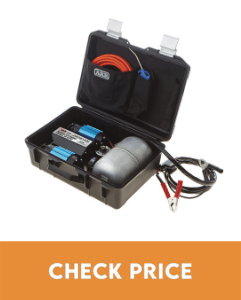 Why we love it?
It's the best off-road air compressor with 150PSI
This is a 12-volt air compressor with a tank
It boasts a dual cylindrical design
Ducted IP55 sealed cooling
Highly efficient twin motor
Waterproof casing

| Pros | Cons |
| --- | --- |
| ✔️This off-road air compressor can be used for a wide range of purposes | ❌Being a portable air compressor for jeep, it does cost a bit |
| ✔️Quiet operation during ideal usage | ❌According to off-road air compressor reviews, hose leakage is common |
| ✔️Equipped with a wide range of accessories | |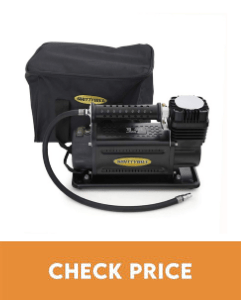 Why we love it?
It boasts an Auto-thermal cutoff switch
It operates as an auto air compressor
Highly intuitive pressure gauge
Quick-release foot coil base
Available with a storage bag

| Pros | Cons |
| --- | --- |
| ✔️One of the top-rated off-road air compressors with extended functionality | ❌The quality of the provided bag is mediocre |
| ✔️This budget off-road air compressor is made from premium materials | ❌Lack of accessories |
| ✔️Provided with a storage bag | |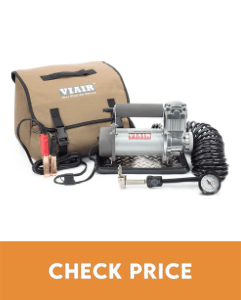 Why we love it?
Top-rated air compressor for off-road use
Incorporated with heavy-duty dual battery clamps
It's a 12v air compressor 4×4
40-amp inline fuse with the design
Included with easy to carry bag
Optimal hose length

| Pros | Cons |
| --- | --- |
| ✔️ Dozens of positive off-road air compressor reviews | ❌This air compressor for off-road use is not known for longevity |
| ✔️It weighs just under 10 pounds | ❌The air hose will often chunk, and the locking doesn't work properly |
| ✔️ It can easily incorporate greater PSI levels | |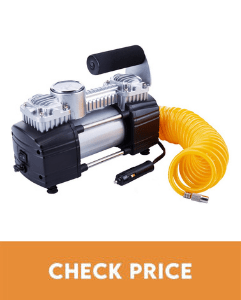 Why we love it?
Available with DOUBLE CYLINDERS inflation pump
Better than onboard air compressor for service truck
Integrated with a 5M extension hose
Fully stable air pump
Easy to install and use
Power-efficient

| Pros | Cons |
| --- | --- |
| ✔️ Great bang for the buck portable air compressor for off-road | ❌ Its hose attachment might be a bit odd at first glance |
| ✔️It can even inflate truck tires rapidly | ❌It comes with a shorter power lead |
| ✔️ Made with stability technology for less noise | |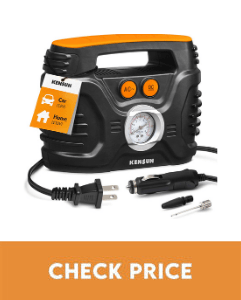 Why we love it?
This is a top travel air compressor
Fully functional 12V power outlet
Equipped with multiple attachments
Classical pressure gauge system
It's a multi-purpose tool
Compact construction

| Pros | Cons |
| --- | --- |
| ✔️ Great bang for the buck portable air compressor for off-road | ❌ Its hose attachment might be a bit odd at first glance |
| ✔️It can even inflate truck tires rapidly | ❌It comes with a shorter power lead |
| ✔️ Made with stability technology for less noise | |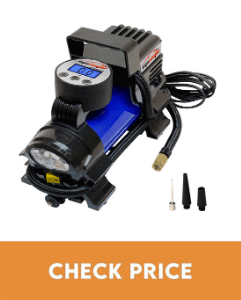 Why we love it?
Amazon's Choice for the premium tire inflator portable air compressor
It features a highly intuitive LED FLASHLIGHT
Auto shut off to prevent overloading
A wide variety of adaptors
Over-inflation mechanics
Multiple display units

| Pros | Cons |
| --- | --- |
| ✔️ Even a cigrate lighter can easily power it | ❌ It lacks many premium features under the hood |
| ✔️ There is a durable flashlight LED for illumination | ❌ Not suitable for heavy-duty tires |
| ✔️ Backup fuse available in the packaging | |
Buying Guide – Which Off-Road tire inflator is Suitable for You?
Choosing an off-road air compressor is undoubtedly not an easy task. There are dozens of options widely available in the market, each of them with its perks like added performance, durability, extra cord length, and greater power output.
This is the reason why we will be discussing some of the renowned options separately. Following are some of the standard tire inflators types that you can avail yourself of in 2022.
1)Portable Air Compressors
These are some of the cheapest and most affordable options currently on the market. The great thing about them is that you can get them within $100. You can even get them a bit cheaper if you willing to miss out on some advanced features. Common types of these options include Smittybilt 2781 Off-Road Air Compressor. They are ideal for those that are on stock tires like 33s or 35s.
2)Single Onboard Air Compressors
The great thing about these bad boys is that not only they can be effective in airing up your tires but also valuable for operating lockers. these onboard devices are a great piece of equipment to have in the arsenal. Especially for those of you who contain high-end air lockers.
They are also a bit more powerful than the portable ones, so if you have moderate tires, they are the perfect bang for buck compressors. Generally speaking, it can air up a single 35s well within 3 minutes.
3)Dual 12V Air Compressors
If you searching for one of the fastest and most effective airing systems on the market then dual air compressors like any ARB are a great accessory to have. It is worth considering that they can be a bit noisy and often expensive compared to their budget counterparts. But if you have more significant 37s or 40s tires, these are the ones you should opt for.
Things To Consider While Buying an Off-Road tire inflator
In order to make an ideal purchase, there are a couple of things that you need to take into consideration. When it comes to Off-road air compressors, things are no different. The following things will help you decide the premium fit for your off-roading needs.
Acoustic Levels
Noise or acoustic level is a vital factor in choosing the prime tire inflator. Most of these units on popular sites such as Amazon represent their normal noise levels. However, it's better to double-check before making the purchase. Additionally, we will recommend you to not carry yourself too much on this topic as you will be utilizing it outdoors quite frequently.
Conclusion
So, these were our top 6 picks for the best off-road air compressor on the market. If you are still confused, let me summarize it quickly. Air compressors are a great tool to have, mainly if you're off-road. If you're a travel enthusiast, then you should definitely keep it well regulated in your inventory.
Keep in mind that the portable cheap air compressors won't be enough for users with higher needs. You will be able to fill these sorts of tires up, but it will eventually take much time.
That's why it's worth spending a premium for a single or dual-channel air compressor right off the backend. Also, make sure to check the voltage and build quality of your device. This is crucial before buying if you need a model for the long haul.
Frequently Asked Questions: 
Q1. What is the prime 4×4 air compressor?
When it comes to a 4×4 air compressor, the ARB (CKMTP12) Off-Road Air Compressor Kit is clearly the winner. However, you should definitely check out the Smittybilt air compressors.
Q2. Who is the prime air compressor manufacturer?
CRAFTSMAN and ARM are well-known for their functional compressors. Off-road compressor reviews support this statement. They can last you a bit longer as compared to competitors.
Q3. Is an onboard air compressor for tire inflation worth it?
If you require more power without consulting additional portability, then yes. The onboard air compressors are absolutely worth the price tag.