It is smart to ask right away: Are you a jeep driver looking to make your license plate personalized? Well, there are a million ways to personalize your license plate and make it classy. You have so many options today.
Your vehicles, especially jeeps, need a bit of accessorizing and personalized license plates are one of the best ways to do that. Furthermore, it shows everyone that you take time and energy in deciding on a license plate. It also gives your Jeep recognition from far off. So it definitely makes you look great among peers. But where to get all the cool ideas for jeep personalized license plates? Right here!
Here you can find out the best jeep personalized license plate ideas along with which ones are best suited and available for you in the market. So get on your Jeep as we march through this amazing list!
What are Jeep Personalized License Plates?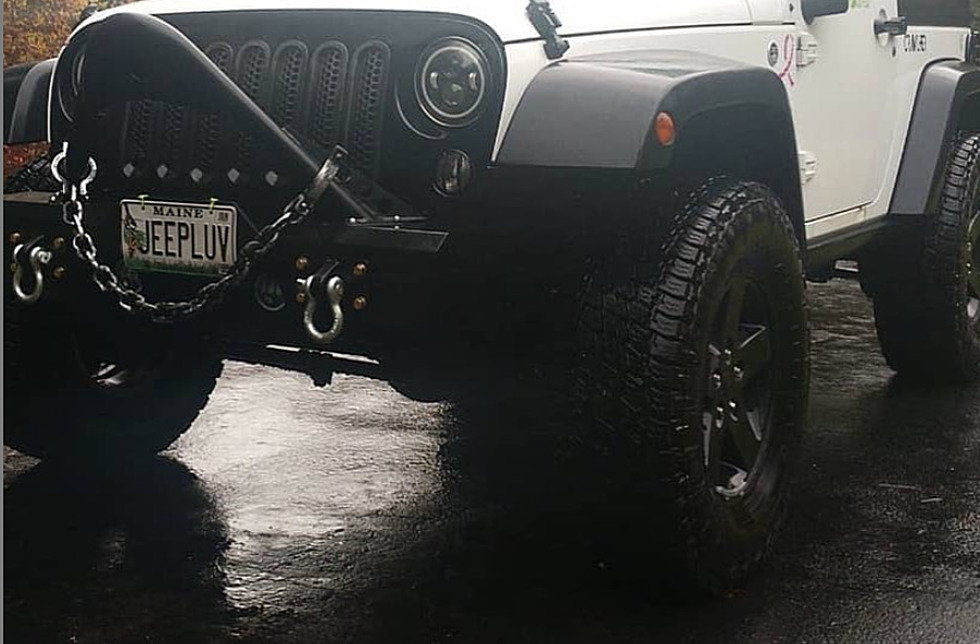 Personalized or vanity plates are the customized license registration plates of a vehicle, in this case, a jeep. You may also call them privatized or custom plates, the concept remains the same. Vanity plates and personalized plates are often used interchangeably They show your jeep's vehicle registration number and are custom made by paying additional to a regular license plate.
This personalization can be in the form of numbers, names, or letters that represent something or act as an abbreviation. Multiple styles, designs, and also color schemes are offered for personalized license plates. They make a statement about the personality of the jeep owner.
Moreover, personalized license plating is a great way of generating additional income for licensing agencies.
Types of Jeep Personalized License Plates
You have as many types of personalized plates as you think. Of Course, there are certain restrictions that cannot be challenged. However, you can have date ideas, nicknames, or even slogans portrayed on your personalized license plates. Another common yet interesting personalization includes the use of pictures on the license plate. And that is absolutely legal!
Picture Personalization
You can use a picture for your personalized jeep license plate. All you need to do is up to your payment game by a few bucks, just some added fee along with regular registration and you are good to go. It may sound hard on the pocket but will look really stylish on your Jeep. You can browse through the given categories and have and choose from a wide range of dandy images for your license plate.
How to Get Personalized Jeep License Plates?
Personalized license plates for your Jeep are not so complicated to get. Also, it is an entire process and not just concerned with an increased fee. The process may vary from state to state but essentially it is as follows:
Personalized license plates can be bought for any kind of vehicle. The registration fee varies for the kind of vehicle in question. The applications are sent to the State Office of the Secretary. It may be by mail or online.
The receipt is given after the documentation is completed and the jeep owner is on the waiting list for approval.
After approval, a personalized license plate is sent to the owner via post. So that there is no hassle of getting in long queues to get your license plate.
This entire process may take 3-4 weeks. The time may also vary depending on the state in which you reside.
How Much Does a Jeep Personalized License Plate Cost?
As mentioned previously, personalized license plates are pricier than regular ones due to additional registration, approval, and service fee.
The fee varies from state to state so it is not right to mention one number. But as a ballpark, the fee is a small percentage of the total cost of a regular plate. So it is completely feasible for anyone who is willing to pay a few extra dollars.
Don'ts for Custom Jeep Plates
While you have plenty of options for a personalized license plate, there are a few ideas you can not use on your license plate. You need a good jeep license plate idea as allowed by the law. Every state has its own banned list of options from personalized license plates. Some of the most common ones are as follows:
If your personalized plate gives the outlook of an official number plate, you are restricted from using it.
A personalized plate that is offensive and symbolizes obscenity is also illegal to use.
Single lettered plates are restricted too. You need something more to convey your meaning anyway, so the single-lettered option is already out of the list.
You can not under any circumstances use symbols like hyphens, dashes, etc.
Other than these you can always look up to the state department for guidance. Make sure you do that before getting yourself into unnecessary fines.
Top License Plate Ideas for Jeeps
You are in love with your jeep and want the best for it, that is understandable. So you need the idea that is totally the greatest fit for your beloved jeep. Finding the perfect jeep front license plate ideas is a rarity but worry not we are here to guide you. Some of the greatest options for your custom jeep license plates out there are:
Name
You can always use your name. It is the first of the many great jeep personalized license plate ideas that you can have. It is safe and kind of cool too. The thing about mentioning your name is that it stands out on the front and the back. Everyone would know that it's your jeep. You will obviously need to use a shorter version of your name to fit it over the license plate.
The thing about it is that you may have to use numbers on your plate that can make your name difficult to understand. Also, it is not great for people with long names. Other than that, it works out well.
Important Numbers
You can use your lucky numbers as license plate ideas for jeeps as well, like birthdate, age, or crucial years like birth year, anniversary, etc. this way your license plate will make more meaning to you and signify something.
The downside of this is that the plate will mean something to you but to onlookers, it would be the same as any license plate. So if you are spending extra to impress, this option is not for you. But if you want to make your jeep plate special, to give you joy every time you look at it, then definitely this is your option.
Career Choice
It may sound a bit showing off but how about your professional life incorporated as your jeep personalized license plate idea. Like if you are a doctor you can use DOC on the plate or if you are a lawyer you can mention LAW. Similarly, people who work in the fitness niche can opt for GYM and so on. You can use short names for your profession accordingly. It isn't for everyone because some professions can not be nicknamed. But if yours can be, go for it!
Nickname
Using your nickname on the license plate is also very endearing. You can display it and show the uniqueness of your jeep to others on the road. The good thing about using nicknames is that it instantly stands out and tells people who you are.
All your friends and family circle will know and rave about your personalized license plate. So what else are you looking for?
Personal Preferences
If you want your jeep to tell people in the face who you are, you might want to personalize your plate with your interests or hobbies. It is one of the best jeep license plate ideas. Not only will it make your jeep license plate fun but also reflect your personality at first glance. Some of the great options in this regard are:
Depending upon what you are enthusiastic about, these words can vary.
Car Kind
Using your jeep's model on the number plate is also one of the greatest ways to tell people about your jeep. Since you are putting so much effort into the custom-made license plate, it will help you in return to show people how much you spent on your jeep's model. It's a two-way street. Also, it matches the vibe of your jeep instantly.
You can also make funny jeep license plate frames, it depends upon you. As long as it isn't derogatory you can always use some creativity. 
Guide to Find the Best Jeep Personalized Plates
Finding the right idea for your jeep license plate is hard. But once that's done you need to find the right person to buy it from. You need a complete manual before you walk into any of the license plate agencies. Lucky for you here are a few factors you can use to judge if you are buying right:
Purpose of Buying
You must know your reason to pay extra in order to buy your license plate. You need to ask yourself what message do I want to give to the onlookers? Do I want to show my status or is it for professional reasons? Once you are clear about these reasons you can easily make an informed decision. Knowing the purpose of buying also allows you to plan well and keep in mind your budget, restrictions, and options available to you.
Usually, the purpose is about status and how much you take an interest in customization of your jeep license plate. So in that case buy a license plate that shows high class and shows others upfront about who you are.
State Restrictions
As mentioned earlier, state restrictions minimize your options to buy license plates. The restrictions vary from state to state. So be aware of what you can and what you can not do. It will be useless if you purchase a pricey license plate and are not allowed to use it in your state. Also, you need to see which names are allowed and not taken already. Because if they are, there is no way you can also use it. That will also be a tragedy for customization.
Safest Options
Using abbreviations, symbols and initials are your best options. Not only are they safe but also show your intention clearly. Since they are short, they are easy to fit on the plate and convey meaningfully. Even if you ask an expertly personalized license plate generator he will definitely recommend these options to you.
Use your experience with buying previously. In case you are a novice you can always take guidance from here. It may take time but ultimately you will find your dream personalized license plate. Till then keep on looking!
How to Install Your New Number Plate
Some Amazing License Plates You Can Get Right Now:
Here are some amazing plates that can enhance the beauty of your jeep!
1. Generic Custom 50 State License Plate
Why we love it?
All plates are built with high-end products with highly durable materials.
The metal plate and my custom text are printed on the plate, not just stickers.

| Pros | Cons |
| --- | --- |
| ✔️Great customer service. | ❌The letters are small decals rather than raised |
| ✔️Best for gift ideas. | |
Looking for More Accessories for Your Jeep? Check out these finest off-road air compressors
2. Generic Personalized Front License Plates – Laser Engraved
Why we love it?
The unique laser engraving procedure burns the picture deep into the license plate and is designed to last for years rather than weeks
The plate itself is thin and fragile, and it looks excellent on the front of every car.

| Pros | Cons |
| --- | --- |
| ✔️Worth the money. | ❌The letters are small. |
| ✔️Super sleek. | |
With these finest number plates adding a good-looking bumper can be a big plus. So, enhance your Jeep even more with these best jeep bumpers.
3. TEAMLOGO Personalized Texas License Plate
Why we love it?
It is a high-quality plate that closely resembles the actual thing.
The printing is flawless, it's on metal, and it's roughly the size of an actual license plate.

| Pros | Cons |
| --- | --- |
| ✔️Exactly as described | ❌Can be used illegally.  |
| ✔️Just the right size. | |
Want to Tune-up your Jeep JK? Check out these finest tuners for Jeep JK!
Frequently Asked Questions:
What size is best for a kid's ride-on jeep and would guarantee to look good?
You should analyze the area where you intend to install the plate and then purchase the correct size. However, most buyers buy the 3″ x 6″ for this use or attach it to the Jeep jl front license plate bracket.
Do the plates include screws or nuts to keep them in place? Where can we find those?
No, it does not include anything. The only item you get is the customized license plate. You can acquire the screws and hooks for the Jeep license plates at a local Auto Parts store.
Is it possible to insert a new line in the text to display?
Try removing it from your order and saving it to your favorites; you might be able to alter it and re-add it to your cart.
Are the letters affixed to letters or embossed on plastic plates?
The entire pattern is securely imprinted onto the surface of the plastic plates. There are no stickers, and only professional decoration is permissible inside.
Is this lawful? Is it necessary for us to have our license visible via the windshield?
No, this is not an authorized license plate. Suppose you wish to take advantage of it. Then, just for the sake of fun, put it on the front of your car and place the legal plate on the rear.
How long does it take to ship?
Usually, all excellent jeep license plates are shipped within 2-3 business days. 
The Bottom Line!
It doesn't matter whether it's a small cosmetic upgrade or a big one, we all know that every bit matters. Especially for us Jeep owners, even part of our jeep is usually customized to our preferences. So, why not the license plates! That's why we wrote a guide on the best jeep personalized license plates. Just by thinking about a license plate, we might think of it as the most basic thing, but a personalized one can enhance the cosmetic beauty of your jeep a lot!
Sources: