I hope you will agree with me when I say that;
When it comes to Detroit Truetrac vs locker: there is a lot to talk about other than just the on-road performance and overall cost.
Differentials are no doubt one the most important components of any modern vehicle. Choose the wrong one, and you might suffer from bad performance and get the vehicle damaged altogether. So, like a car or jeep owner, getting the power to the ground is as crucial as any other aspect you could think of.
Now there are different applications and means of rear-end differentials in the market, but two of the important ones are Detroit locker vs Truetrac. They've been around for a while, and whether you're a weekend racer, a hardcore off-roader, or something in between, they've got you covered.
While both appear reasonable at first sight, the difference between the two is rather astounding. Today, we will be going through an in-depth review of Eaton Truetrac vs Detroit locker. Whatever your tastes and automobile options are, you will be able to make an informed decision after reading it. So, let's get into it!
What are Eaton Performance Differentials? – A Basic Overview
Most car owners might not realize it, but Eaton Corporation is the world's largest traction modifying differentials technology manufacturer. This means that they develop differentials for many of the OEMs and have done so for well over 50 years. It's those years of experience and investment that made them some of the best in the business.
They create products for OEM differential clients who want the right gear set for their performance aftermarket application.
Whether you're a truck or a Jeep owner, they are going to meet your performance requirement for as long as you choose to use them. The great thing about Eaton's lineup is the fact that they have a product for everyone.
One of their most popular and well-known options that have been around since the early 1950s is their Eaton Posi unit. As the name implies, this clutch-plate style limited slip is analogous to the original term that most of us are familiar with. Back in the days of the 1960s and early 1970s in the US auto industry, the term positraction was very well-known in regards to the clutch-base style limited differentials.
What a lot of people don't know is that the word "Positraction" is in reference to the original slip differentials made by the Eaton Corporation for the US OEMs.
So, in a nutshell, they have been in the production of this product for many years now and have definitely refined it. At the same time, they are keeping the principle of operation fundamentally the same. As new engineering techniques and materials became available, they have improved the durability and performance of such differentials while still ensuring a consistent and durable feel. Equivalent to what people are looking for in modern-day restoration cars.
Locker vs Detroit Truetrac vs E-locker Review
Before we head on to things like Detroit Truetrac installation and how a Detroit Locker works: it's best to go through a couple of things that separate both of these differentials. They can be classified as below
Detroit Truetrac Dana 30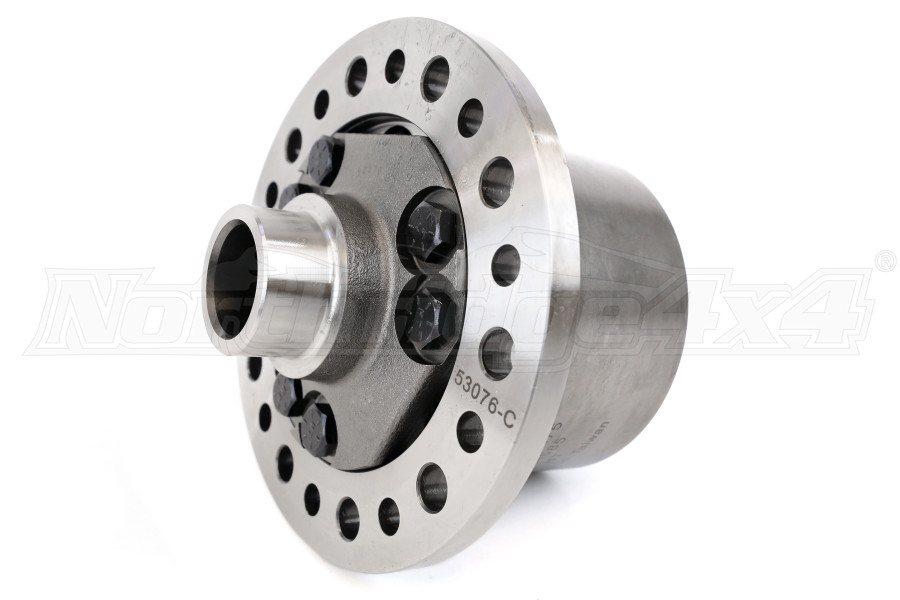 If you are someone who's looking for a limited-slip differential in your portfolio, then the Detroit Truetrac is something we definitely recommend. It's different from the Posi because it uses a helical gear-type technology.
One of the big advantages of such technology is its high torque carrying capacity while remaining smooth and quiet. This makes it a wonderfully diverse application, not only for a street to strip type of use but as well as heavy-duty towing applications. It can also be used for front-axle applications in the case of a daily driver combination or a weekend offroad unit. So, regarding Detroit locker vs Truetrac, it is a variation on the limited-slip technology that uses what we refer to as a helical gear set.
This is the reason why it's intended for a little bit of heavier-duty type use. If you are doing heavy-payload, towing, and street-to-strip, it's one of the better options in the market. It's an application that will handle comparatively higher torques and higher horsepower and do so in a very friendly controlled fashion. The only Truetrac problem we could think of is the fact that it's a smooth operating differential. This means that you won't be able to get decent steering feedback.
Eaton Detroit Locker Parts
Moving on through the product lineup, we have what is arguably one of the most recognized brand names in the differential arena, the famous Detroit locker.
The Eaton Detroit locker has been around longer than any other product type, what we refer to as the traction modifying differential space. It is being used effectively for both on-road performance such as street to strip and drag racing as well as in dedicated off-roading applications.
It can be applied for both front and rear axle applications due to the fact that it has the highest torque carrying capacity in Eaton's portfolio.
This means that when somebody is looking to do a lot of driveline build-up in terms of torque or horsepower or higher gear ratios in offroad conditions, a Detroit locker is something that you want to give serious consideration to.
Again, the Detroit lockers are one of those highly recognized names in the industry, which won't disappoint. They are a bit more of a specialty application in terms of their use case in circle track or quarter-mile racers or dedicated off-road rigs.
E-Detroit Locker vs Truetrac
Finally, in our Detroit locker application guide, we have the e-locker. It has been around for nearly 20 years and can get you the versatility you rightfully desire. An interesting backstory on this model is that it was originally developed for a company called AM General and what was known as Hummer H1, which most of you probably heard about.
On the surface, this is an all-electronic device that provides a simple on-off operation without any complications. You can select full lock or what some wheelers might refer to it as a spool mode and get ultimate traction on-demand as needed. Customers now use them for both front and rear applications, which is a great alternative for individuals who like to go all out.
It is located well within the selectable locker family of products. That just means that you, the driver, can actuate the differential on your desire via a switch on the dashboard. So, you can go from an ordinary open differential for normal daily driving to a full axel lock when you take your vehicle off-road for a more demanding situation. Want to learn more about car components? Check out the Rancho 5000 vs 9000 | Which is Best?
Eaton Truetrac vs Detroit Locker: Principle of Operation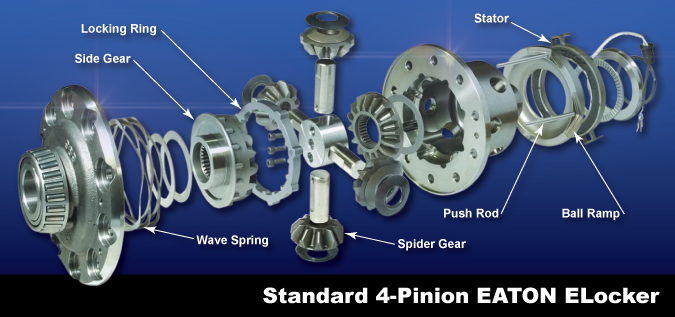 With that out of the way, it's time to discuss the working principle of both of these differentials.
How a Detroit Locker Works?
As you may know, the Detroit locker is quite a competent differential utilized in various applications such as street rods, drag racing, extreme off-roading, and even in something as demanding as NASCAR.
This is why it's necessary to discuss Detroit's operating principle since it will help you understand how it will function for you and improve your vehicle's performance.
To start things off, a Detroit locker is something we refer to as a speed-sensing differential, and by that, we mean is it will respond to the need for wheel speeds to change depending on the condition of the driving situation.
So, in an ordinary on-road driving environment (high-traction dry roads, for example), a Detroit locker driving in a straight line is locked. When you try to turn both the axle shafts independently, you won't be able to do so.
Thus, the term "locked axle" is referred to as a temporary condition that's equivalent to having a spool in your axle. In terms of real-life performance, that means that full driveline torque is being delivered to both of the wheels equally.
So, you're going to get an effective acceleration with both wheels delivering maximum traction to the road surface. In the axle that has Detroit installed, whatever the outside wheel is during the portion of the turn, it will actually decouple itself from the driveline and freewheel. Note that the opposite side is still coupled to the driveline and continues to propel the vehicle forward.
Detroit Locker Application Guide:
As you transition from the turn back into straight-line driving, the differential will relock, and your jeep will again go back to the spool-type mode, maximizing traction. This makes it an ideal candidate for combination on-road, weekend street to strip, or dedicated drag-racing applications. Taking the same concept of Detroit Truetrac vs locker, let's talk about off-road for a minute.
A big variable there is the assumption that you're on a softer lower traction surface when off-roading, which could be anything from sand to mud to snow. In the case of a Detroit locker in an off-road environment, those softer surfaces end up creating a different result. The phenomenon of decoupling and freewheeling won't occur in an off-roading environment, which is exactly what you want because of that added traction demand.
So, ultimately, the Detroit locker will remain locked on the soft surfaces and continue to propel the vehicle forward efficiently by driving both wheels in unison. We hope this clarifies any misunderstandings about how a Detroit locker works.
Performance of a Detroit Truetrac & How it Works?
Now the Detroit Truetrac is a worm-gear style Posi or a helical gear that displaces the axle as a whole. The worm-gear Posi or the Truetrac basically has these small pinion gears at the center section. They will allow one tire to spin smoothly when going around a corner at a different rate than the other.
However, when you slam on the gas, these gears use what's called gear separating forces to pull away from each other and put pressure on the case. This is how you will be able to do a burnout as both tires will spin at the same rate. Also, the Detroit Truetrac doesn't require a friction modifier or proper maintenance, so you will never have to rebuild the clutch pack or the whole differential.
It can handle all the horsepower over time that your vehicle is going to throw at it. You can get this variant in 31 or 35spline or even 28spline, which is awesome for guys running smaller axle shafts. It's one of the popular differentials that we personally recommend for anything driven on the street. If it's an autocross car or a streetcar that you are cruising on the weekends, this differential is a perfect solution for your needs.
Hopefully, this will clear a little bit of differentiation between Eaton Truetrac and Detroit locker. It's not a perfect comparison, but it sure will help you out in picking out the Detroit Truetrac with 35 tires.
Locker vs Detroit Truetrac Installation
The installation procedure of either one of these differentials (Detroit locker & Truetrac) is rather the same. Following are some of the steps for Detroit Truetrac dana 30 assemblies in your jeep or everyday truck:
STEP1: Removal of existing parts
First and foremost, safely lower your vehicle off the jack stand such that the weight is out of the differential.
At this point, go ahead and remove the caliper and the hung nut so that it's not hanging off the break line.
Similarly, remove the four bolts that hold the axle in and slide the axle out gently.
Now it's time to separate the carrier top using a wrench or a prybar. Also, drain out the lubricant as it might be contaminated.
Take into consideration the bearing cap positioning (mark it) as it can easily be misplaced.
Next, go ahead and remove the pinion and the bearing, and then seal it, so later on, you can replace them with the new one.
After taking out things like cross pins, remove the wheels and brake drums to push the axles in. This will allow you to separate the axle C-clips (use magnet if necessary)
Again, pull the axles out about 10inch to get them out of the carrier.
Once the left and right bearing cap is detached, the differential can easily be removed.
STEP2: Detroit Truetrac Build-Up
Before moving on, it's best to get your hands on a master install kit. This kit will have your new bearings for the carrier, bearings for the pinion, shims to set the unit, fresh rings, gear bolts, and pinion seals.
With the proper equipment in hand, start installing the ring gear on the new Detroit locker.
Once the carrier bearing is installed, make sure you press the bearing on by the center solid piece of it and not on the bearing themselves. Also, try not to damage the bearing or the cage as you hold on to it.
The next step is to ensure that the inner bearings are properly seated on the side surface. Take a quick inspection before moving on.
Similarly, secure the inner section of the unfold differential with the use of ARP fasteners.
After that, Tighten the bolts using a mechanical wrench once the differential is placed in the housing. Continue this step until the rings are seated all the way up. (Torque them down to at least 64lbs)
Furthermore, employ the shims near the centered ring. Adjust the pinion backlash in such a way that each side is tucked against the rear.
Now go ahead and place your Detroit locker Truetrac back into the truck.
The side bearing caps and bolts should be torqued to 60lbs: however, you can take your own configuration as well.
STEP3: Assembly & inspection of Detroit Truetrac
So, at this time, we have installed the pinion gear, completed the clutch sleeve, and set it up for the inch-pound torque.
You also need to bolt the ring gear obviously to the Detroit locker and install it back into the unit. Ensure that the coast and drive-side are in good space and properly placed.
Once that's set up, you need to assemble the axle shaft, put the caliper back on, seal it back on with a new diff cover, and you are good to go.
Before you place in the new differential, make sure that the loose contaminants are not in the housing. Also, before you place the front axle shafts, make sure that you don't damage the seal.
Detroit Truetrac vs Locker: A Basic Comparison
| Features | Eaton Truetrac | Detroit locker |
| --- | --- | --- |
| Debut | Released back in 1980's | Since 1969 |
| Differential Type | Helical-gear style | Automatic locking differential |
| Axle Dimensions | Anything between Spline 30 or Dana 44 | 8-9inch axles |
| Torque range | 2,500 to 25,000 Lb-Ft | 100% of given torque |
| Overall weight | 27-30pounds | 20-25pounds |
| Drive mode | Both forward and reverse | Both forward and reverse |
| Wheel Traction | Decent traction | Maximum traction for extreme conditions |
| Maintenance | Little to none | Requires regular oil change |
| Vehicle Type | Towing trucks, Range rover, 4runners, etc | Drag racers, Jeep Jk, SUVs, etc |
| Application | Street to strip, heavy-duty towing, circle track, etc | Drag racing, weekend street to strip, and off-roading |
| Price | $500-700 | Around $1000 |
After comparing both of these differentials (Detroit locker & Truetrac), it is clear that they are quite different. The main distinction comes from the fact that they are based on unique differential technologies. A Detroit locker is, in a sense, more versatile since it offers automatic locking as compared to its Truetrac counterpart. Similarly, the Truetrac series easily wins the race with its helical gear style setup when it comes to traction in extreme conditions. You will also find out that in terms of maintenance, the Eaton Detroit locker is something that stands out from the rest.
For a more well-rounded comparision, check out the Jeep vs SUV: Which is Best?
Pros & Cons of Eaton Truetrac vs Detroit Locker
Detroit Truetrac Review
| Pros | Cons |
| --- | --- |
| ✔️A smooth yet automatic differential mechanics | ❌It might not be effective on vehicles with large tires |
| ✔️Adaptable to virtually any vehicle type | ❌It lacks durability in comparison to an Eaton Detroit locker |
| ✔️Completely maintenance-free | ❌The torque capacity is not 100% |
| ✔️Used in both forward and reverse wheels | ❌"True Lock-Up" is among the major Truetrac problems |
| ✔️Available in a wide range of form factors | ❌Pulls excessively to the left (dangerous for off-roads) |
| ✔️They can remain silent | |
| ✔️Minimum handling concerns | |
| ✔️Somewhat cheap | |
Eaton Detroit Locker
| Pros | Cons |
| --- | --- |
| ✔️It comes equipped with an automatic locking system | ❌Above-average performance on-roads |
| ✔️Eaton Detroit locker parts are nearly maintenance-free | ❌You will find them noisy in extreme environments |
| ✔️Relatively easy to install | ❌Limited in terms of their stability and use case |
| ✔️Known for its unmatched durability | ❌"Chunkiness" is another issue in Eaton lockers |
| ✔️Works perfectly in both forward and reverse condition | ❌They are kind of expensive |
| ✔️It provides maximum traction for your given application | |
| ✔️ Great for off-roaders or extreme conditions | |
| ✔️A dependable differential | |
| ✔️Installation is a breeze | |
Final Verdict
This concludes our in-depth guide on Detroit locker vs Truetrac. So, when you are ready to go with the best possible performance differential available on the market, both of these options are a great resource. Just make sure to keep in check things like maintenance, installation, and application before you finalize your end decision.
Also, another thing that performance enthusiasts need to know is that it's not a one-size-fits-all when it comes to drivelines and differentials. So, the option that might be suitable for your vehicle might not be attainable for the others. However, it can all be worth it if you keep track of stuff like the Detroit locker application guide or Truetrac problems.
Frequently Asked Questions
Q1 Detroit Truetrac vs Torsen, which one is the best?
If you require added friction between your gears for applications such as drag racing, then the Torsen is definitely a go-to differential. However, Detroit Truetrac, for offroad use, has a definite advantage.
Q2 Is it possible to perform a burnout on Detroit Truetrac?
Yes, the Detroit Truetrac burnout is possible as long as you utilize a single wheel.
Q3 How does a Detroit Locker work?
According to many Detroit Truetrac locker reviews, it operates through a 100% locked-out mechanism and relies upon a steady torque. You can find more on how to do Detroit lockers work by clicking here.
Q4 What's the average Detroit Truetrac installation cost?
For Detroit Truetrac jeep JK, the average price is anywhere between $1000-2000, which covers labor as well as gear setup.
Q5 Is an Eaton Detroit locker a reliable option on the street?
Of course, you may find the Detroit locker on the street quite commonly these days. However, we still do not recommend such an application since it has heavy-duty traction.
Q6 Can I run the Detroit Truetrac with 35 tires?
Yep, the Detroit Truetrac is an excellent choice with 35s since it provides ample application in both on & off-road conditions.