I hope you will agree with me when I say:
Jeep Wrangler is one of the classiest vehicles to own!
While Wrangler is an all-rounder vehicle, adding a few enhancements here and there can spike up its level to new heights. Similarly, lifting your Jeep Wrangler can provide an off-road benefit as well as an edgy look. However, in order to lift your Wrangler, you need to have an appropriate lift kit. Therefore, you must keep on reading through this article to get to know about the most amazing Jeep Wrangler Lift Kits.
The added lift will allow for larger tires to be incorporated. Huge Tires combined with a heightened body give the ultimate class your Jeep deserves. With enough improved tire and ground clearance, your Wrangler can be your ultimate adventure partner.
Things to Consider Before Installing a Lift
Before installing anything, not just a lift kit, you need to determine your expertise level in the respective scenario. Therefore, you need to read all of the instructions beforehand. If you have what it needs to install the lift kit then you can simply follow the instructions provided. Otherwise, a nearby mechanic will be easily able to do it for you.
Leveling Lift Kits: The function of a leveling kit is to ensure that the jeep is leveled from all sides once the lift is added to the jeep. They do not usually exceed more than 2″ inches.
Body Lifts: The function of body lifts is quite similar to the leveling kits. They also remain under 2″ inches. They are more importantly used to separate the body and frame of the jeep.
Suspension Lifts: The suspension lift kits separate the body and the suspension of your vehicle. Although suspension lifts are less expensive than body lifts, they are time-consuming to install.
Best Jeep Wrangler Lift Kits 2022:
The table below lists the top-rated Jeep Wrangler lift kits that you can find in the market
Besides adding a lift, you can even add more accessories to your Jeep. For Jeep Wrangler Lightbars, you can follow our article about Best Jeep Light Bars For Wrangler JK/TJ/JL .
1. MotoFab Lifts Full Lift Kit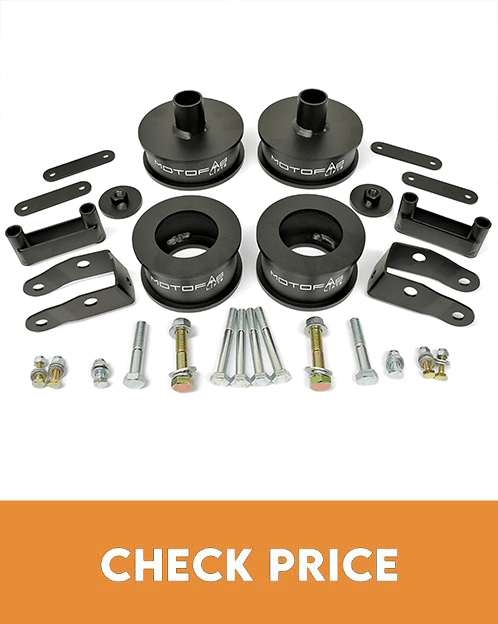 Why we love it:
It has Front and Rear Brake Line Brackets
The lift Clears up to 35-inch Tires, making it ideal to fit larger tires
It provides 3″ Full Lift Kit
Parts are coated with Black Powder Coat over High-grade Steel, making it durable
There are Front and Rear Shock Extenders, allowing larger tires
Easy installation due to 100% Bolt-on Installation
| Pros | Cons |
| --- | --- |
| ✔️Full Kit with Brackets & Spacers | ❌Instructions are not Well-written |
| ✔️Provides Great Clearance | ❌Needs some other extra Parts |
| ✔️100% Bolt-on Installation | |
| ✔️Highly Durable Parts | |
2. Rough Country 3.5 Inch Lift Kit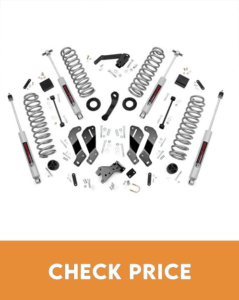 Why we love it:
It has Premium N3 Shock Absorbers that are durable
It Contains Factory-tuned Coil Springs & Coil Correction Plates
It Provides a Full 3.5-inch Lift Kit
The kit is Easy to Install, so practical for beginners
It is Compatible with 2007-2018 Jeep Wrangler JK Unlimited
The kit has Control Arm Drop Bracket which helps to set the right geometry
It Includes a Wide Range of Equipment that ensure a smooth ride
| Pros | Cons |
| --- | --- |
| ✔️Wide Range of Equipment | ❌Exhaust Modification Required for 2012-up Models |
| ✔️Contains Guide for Easy Installation | ❌Front Driveshaft in Risk of Getting in Contact with the Automatic Tranny Pan |
| ✔️Great Value for Money | |
| ✔️Contains Parts to Correct the Geometry of the Vehicle after the lift | |
3. TrueTwo Jeep Wrangler Suspension Lift Kit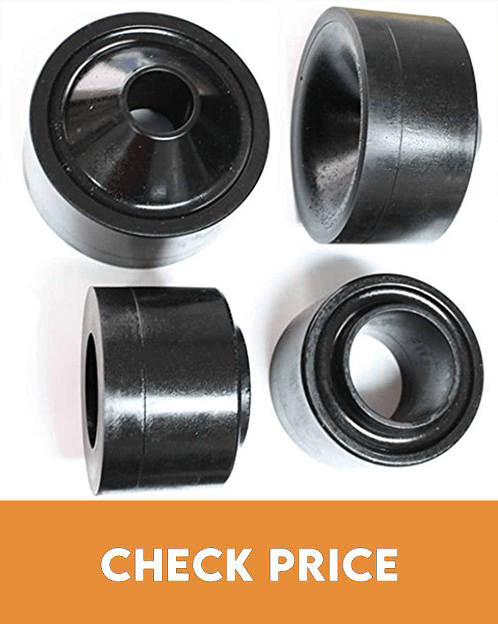 Why we love it:
This kit is Compatible with Jeep Wrangler & Jeep Cherokees
It Includes a 2.5-Inch Coil Spacer Kit – Front & Rear
TrueTwo Provides a 2.5-inch Lift with Stock Isolators
It is an Affordable Jeep Lift Kit compared to others
The Parts are Made of Lifetime-grade Polyurethane, making them durable
It Provides a 2-inch Lift without Stock Isolators
| Pros | Cons |
| --- | --- |
| ✔️Easy to Install & Remove | ❌Not Suitable for Daily Drivers |
| ✔️Affordable | ❌Some Necessary Tools were Missing |
| ✔️Provides both 2" and 2.5" inches lift | |
| ✔️Lifetime Durable Parts | |
4. Mopar Jeep Wrangler Lift Kit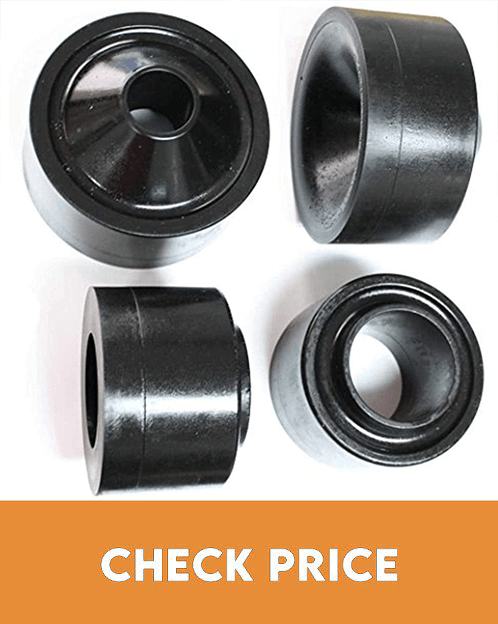 Why we love it:
The kit contains Track Bar Bracket, allowing adjustment of the lateral location of the track bar
It contains Tuned Coil Springs to provide lift
It has Brake Relocation Brackets, allowing proper brakes' relocation
It comes with Fox Shocks, which are lighter and have better heat dissipation
It is a 4″ Lift Kit
| Pros | Cons |
| --- | --- |
| ✔️Wide Range of Equipment | ❌Compatible with Only a Few Models |
| ✔️Offers a Smooth Performance | |
| ✔️Contains Fox Shocks for Better Heat Dissipation | |
5. Skyjacker 4'' Lift Pallet Kit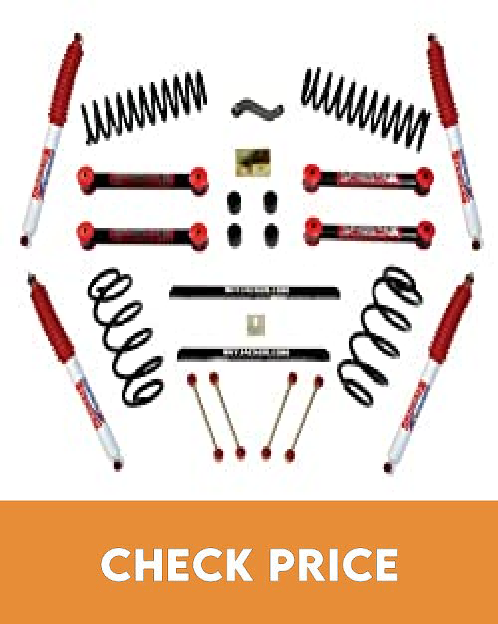 Why we love it:
The kit Provides 4″ inch lift
It Comes with new shocks
The kit contains coil springs
It is extremely Easy to install
| Pros | Cons |
| --- | --- |
| ✔️Comes with New Shocks | ❌Poor Packaging |
| ✔️Affordable | |
| ✔️Easy to Install | |
Conclusion
This guide completely answers your questions such as "what lift kit should I get for my jeep?" or the "cost to lift a jeep wrangler unlimited?" For selecting Jeep Wrangler best lift kit, you only need to follow this guide. This guide sums up all that you need to know for every lift kit for Jeep Wrangler Unlimited, Rubicon, and all the other options in here. You can easily select the lift kits according to the kind and amount of lift you wish to acquire for your vehicle.
To learn more about Jeep Wranglers we have comprised a guide on 4 Types of Jeep Wranglers In the Market.
Buying Guide
What is a Jeep Lift Kit?
A jeep lift kit contains car parts and tools that help to replace the shocks and springs of the jeep to increase the height of the jeep. Although, jeeps are normally well-accounted for off-road usage, adding a lift can improve the capability of your jeep. The increased height helps to incorporate larger tires. This, along with the additional distance from the ground, makes it much easier to cover even rougher terrains. Hence, you can have a lot more adventurous rides with a lifted vehicle.
Another important factor to consider is the amount of lift you wish to have. The amount of lift is dependent on the use as well as your personal preference. The various options include 2″, 2.5″, 3″, 3.25″, 4″ inches etc. Moreover, different lift amounts require different extra settings to recalibrate the handles of your jeep. You might need to replace the track bar or require longer upper control arms.
Sources: