I hope you agree with me when I say:
It is hard for a Jeep Lover to imagine a Jeep without a Winch.
With that being said, you might wonder what is the best Jeep Winch. Well, you do not have to worry because we have compiled a list of the finest winches for Jeep wrangler.
How to mount a Winch onto a Jeep?
Installing a Winch is not as tricky as some people make it to be. You just need clear instructions and anyone can do it. You just need to make sure that the winch is mounted on the frame and not the bumper of your Jeep for the best possible fit. Now, lets get on with the installation.
Step 1: Once you are done with locating the best position to mount your Winch. You just have to drill the holes where you want to place the winch. Some rock-solid after-market bumpers come with pre-drilled holes for winch installation. They are mounted directly on the frame of your Jeep and serve as a part of it. But if you are not using one of those bumpers, you mount the Winch between the grill and bumper of your Jeep.
Step 2:  Once you're done with drilling the holes in the bumper, the next step is to align the Winch with the holes on the bumper. Put the bolts in and before you tighten them, you need to take one thing into account. You need to make sure that the winch is resting against the bumper. Otherwise, it will move as soon as you use it.
Step 3: Then you just need to tighten the bolts and then release the clutch.  Pull out about 3-5 inches of the wire so that you can install the ferret. Then just install the ferret and then install the hook.
Step 4: Now comes the wiring part. This is a bit tricky because people do not know where the ground wire will go.  It usually goes on the vehicle body earth but different manufacturers recommend different places for it. If the manufacturer suggests some other place, then you should go with that. After that, just plug the positive and negative wires into the battery and you're good to go.
We have compiled this list after conducting extensive research on the Jeep Winch reviews and every aspect needed for a Winch to be ideal for a Jeep. We have also included a step-by-step guide on how to install a winch on a Jeep and an FAQ section at the end. Make sure to hang with us till the end for detailed information on Jeep winches and Jeep winch reviews.
Best Jeep Winch 2022
Here are our top picks for the finest Winches for Jeep
Why we love it:
You can choose between Synthetic and Steel rope
Has 12,000 lbs of load capacity
IP-68 waterproof for durability in all types of weather
Powerful motor to deliver faster line speed
Two-in-one remote for wired and wireless control

| Pros | Cons |
| --- | --- |
| ✔️Super Easy to Install | ❌Wireless Remote battery is unreliable |
| ✔️Fast Speed Winch | ❌Quite Expensive as compared to other Winch |
| ✔️High Quality Rope | |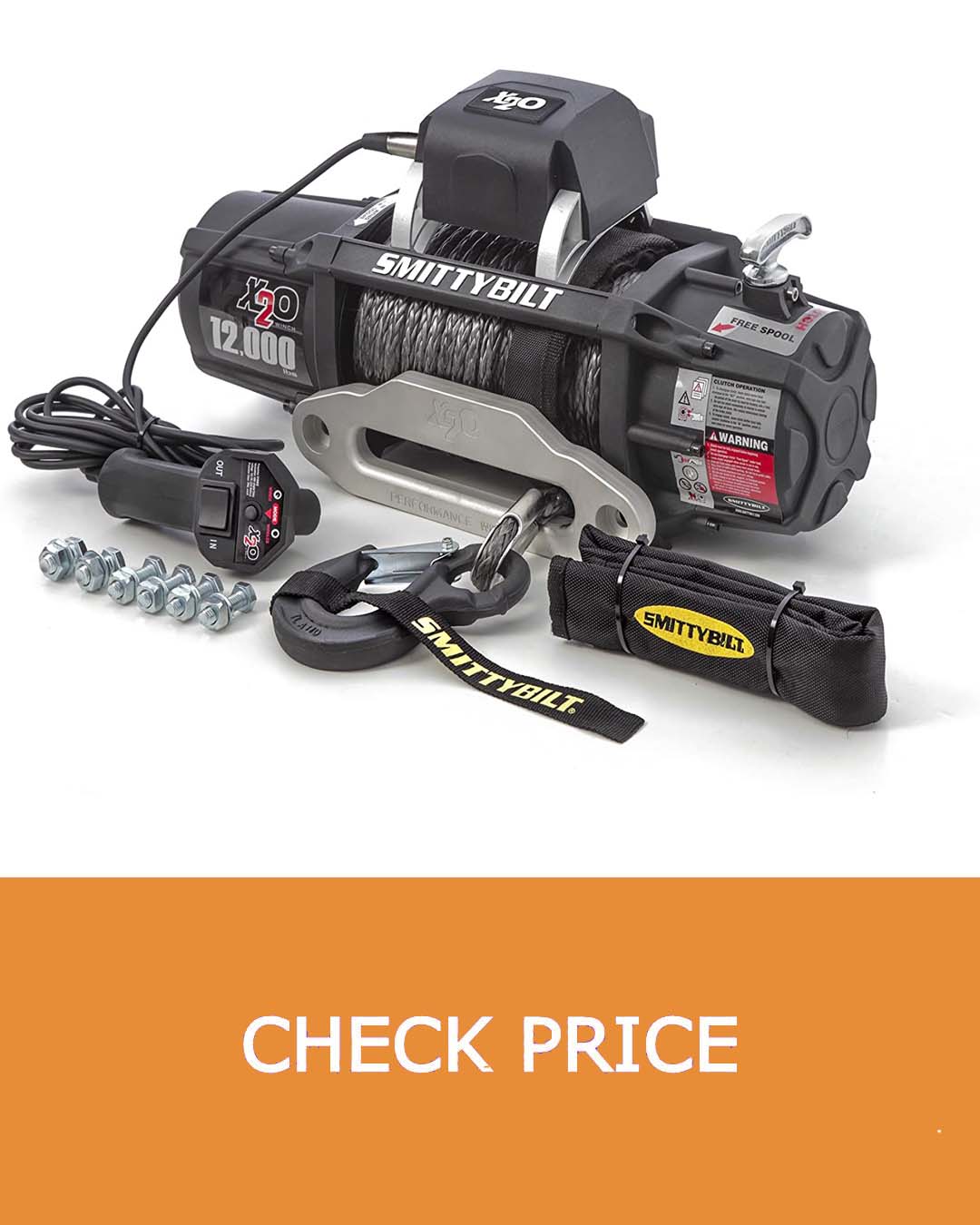 Why we love it:
Winch can be operated via a wireless remote or manually
Comes with a lifetime mechanical warranty and a 5-year electrical warranty
Uses synthetic rope and forged hook for sustaining heavy loads without snapping
Comes with all power cables required for its installation
Stainless steel hardware for increased durability

| Pros | Cons |
| --- | --- |
| ✔️Strong Build Quality | ❌The remote replacement is quite expensive if you lose it |
| ✔️Great wireless remote | ❌Tricky to install for some people |
| ✔️Impressive Speed | |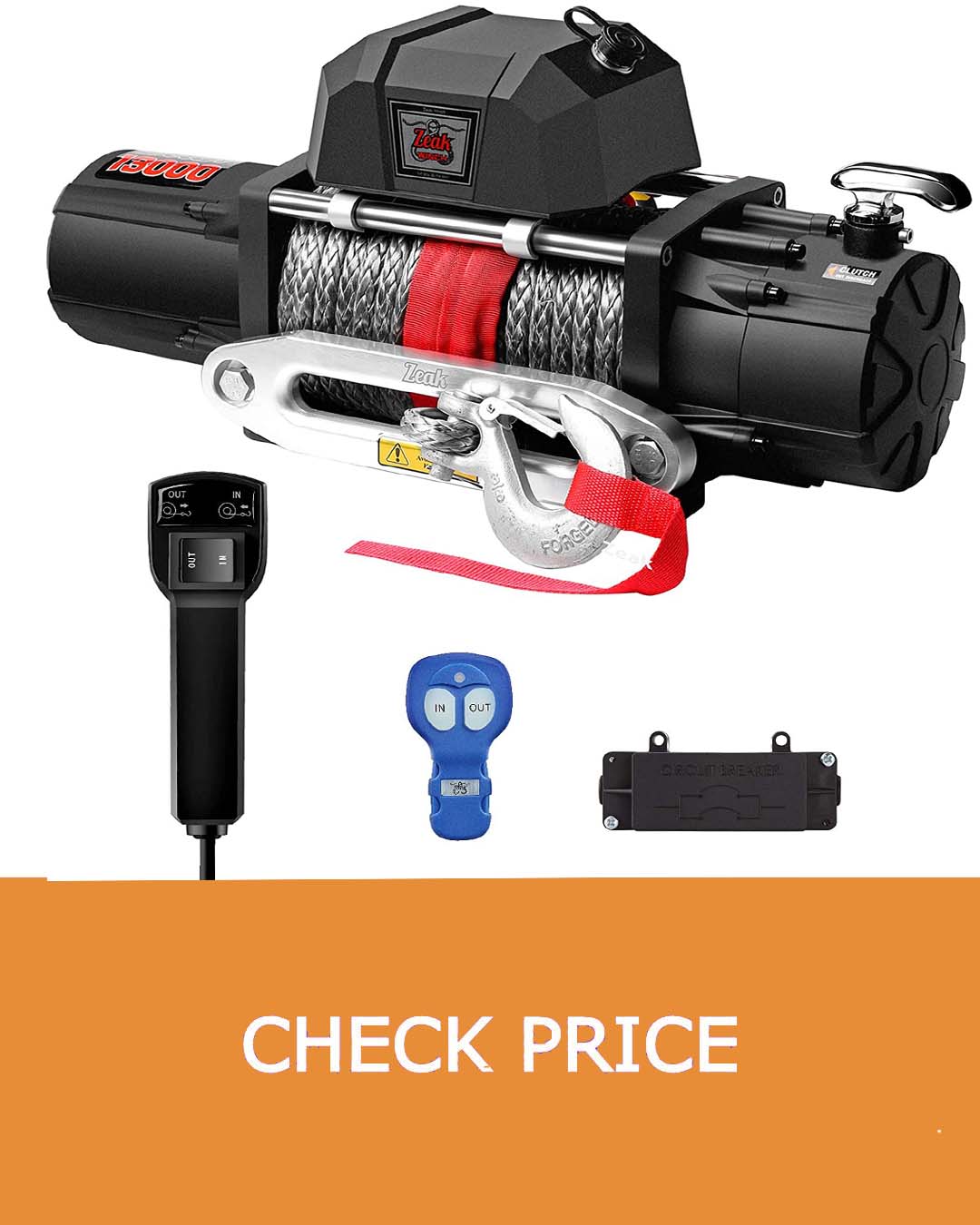 Why we love it:
3-stage planetary steel gear provides a strong pulling power
6.2 hp powerful electric motor
Weather-sealed solenoid makes it IP68 waterproof
Comes with a One-year limited warranty
Comes with both wireless and handle remote

| Pros | Cons |
| --- | --- |
| ✔️IP68 Waterproof | ❌Loud if you do not grease the gears yourself |
| ✔️One-year warranty | ❌Unreliable remote Connector |
| ✔️Heavy-duty power cables | |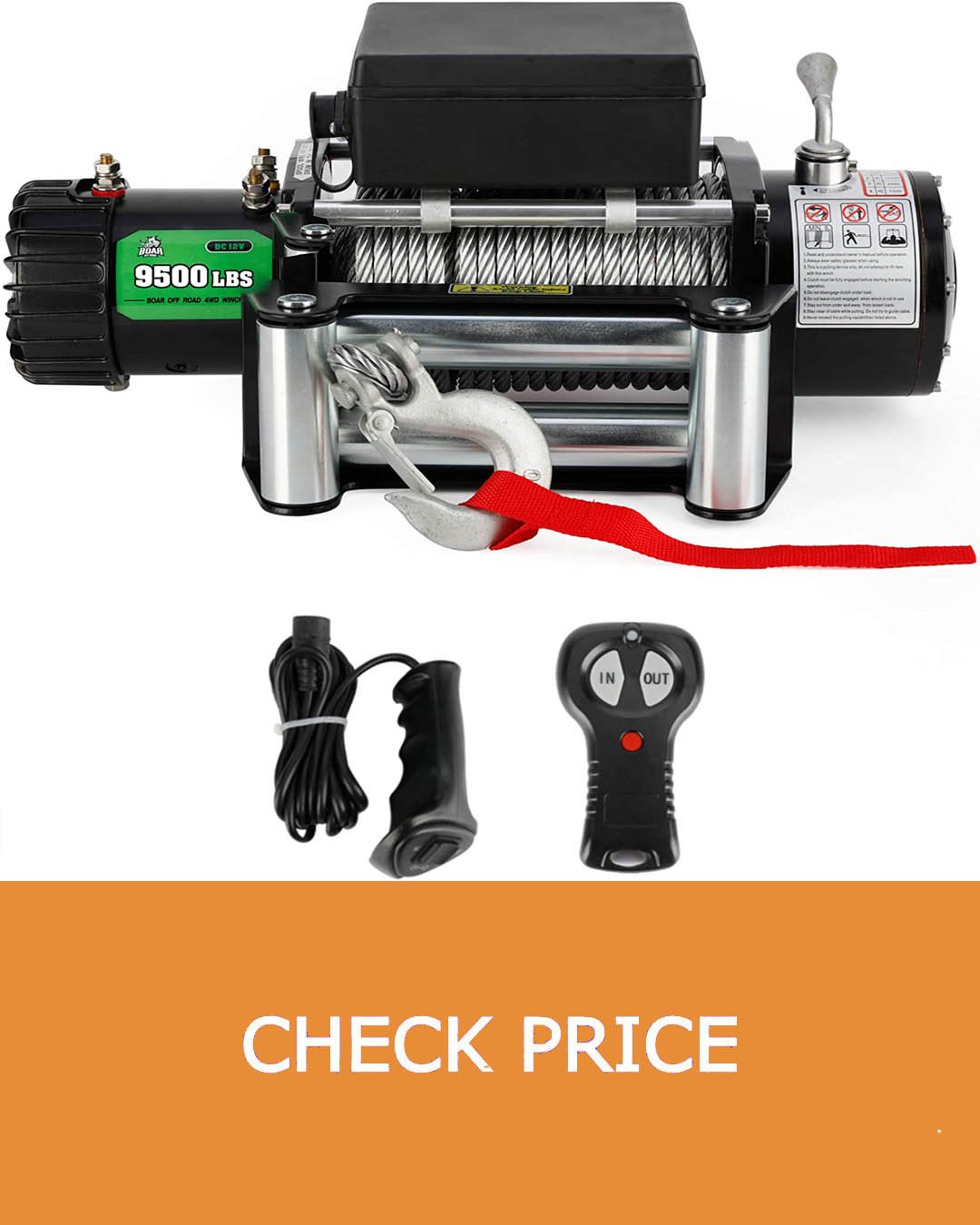 Why we love it:
Has a tractive force of 9500 lbs
Made with low ampere permanent magnet motors for fast linear speed
Uses enhanced Anti-rotation wire rope
Heavy-duty Alloy forged hook

| Pros | Cons |
| --- | --- |
| ✔️The remote switch works great | ❌Respooling the winch cable can be troubling |
| ✔️Cheap as compared to many competitors | ❌The battery cable for the positive side can be short |
| ✔️Synthetic rope | |
| ✔️Easy to install | |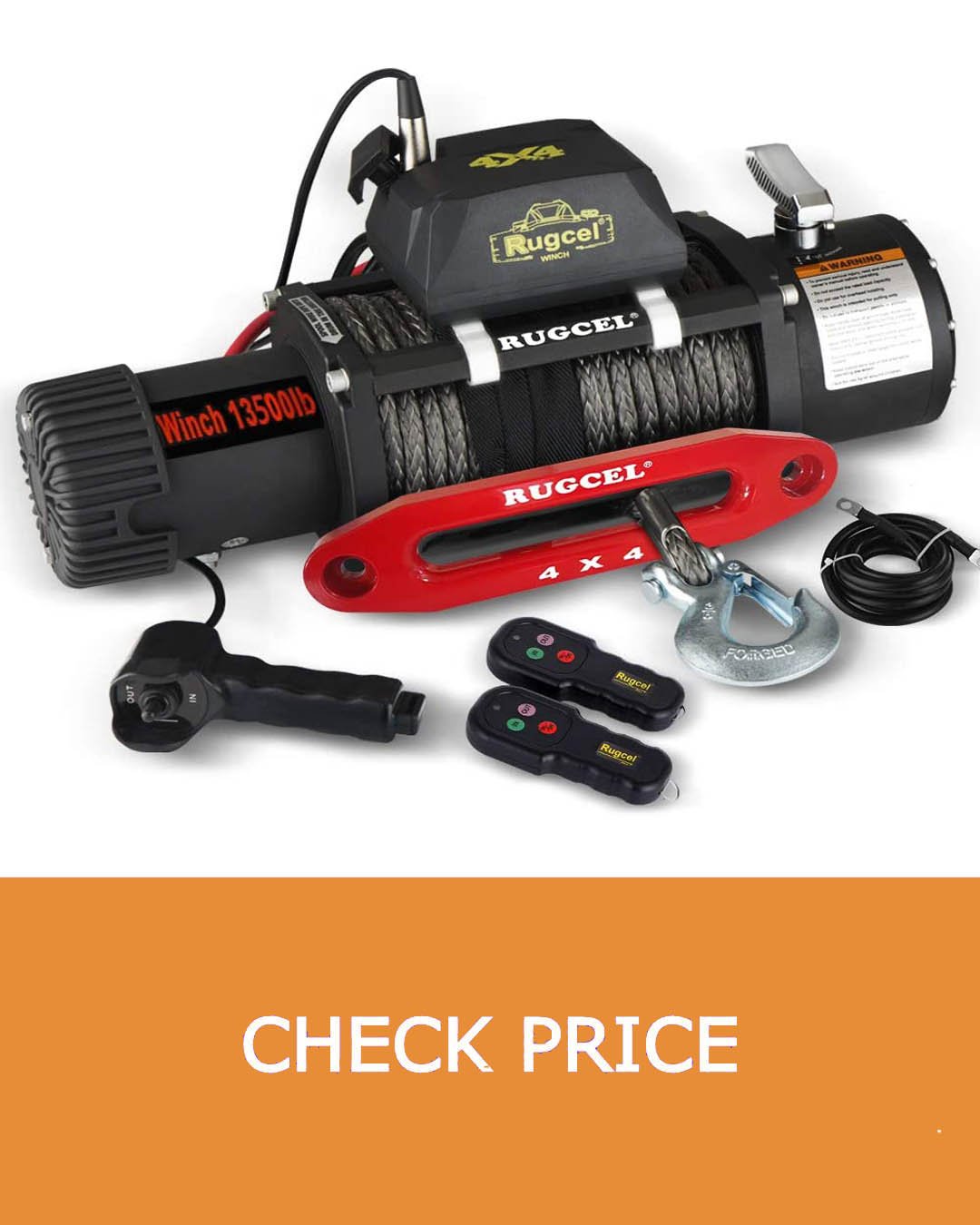 Why we love it:
High quality 7.2 hp 12V motor
It is waterproof and also comes with a double waterproof capstan cover
Both mechanical and dynamic braking for increased control while winding
Comes with an instruction manual to operate it properly
Has a one-year warranty for its electrical components

| Pros | Cons |
| --- | --- |
| ✔️Great construction Quality | ❌Does not have a brake when it needs to be put in neutral |
| ✔️Super Easy to install | ❌The controller is not waterproof |
| ✔️Heavy-duty synthetic rope | ❌Not great for long intervals of use |
| ✔️Wireless and Wired remote work great | |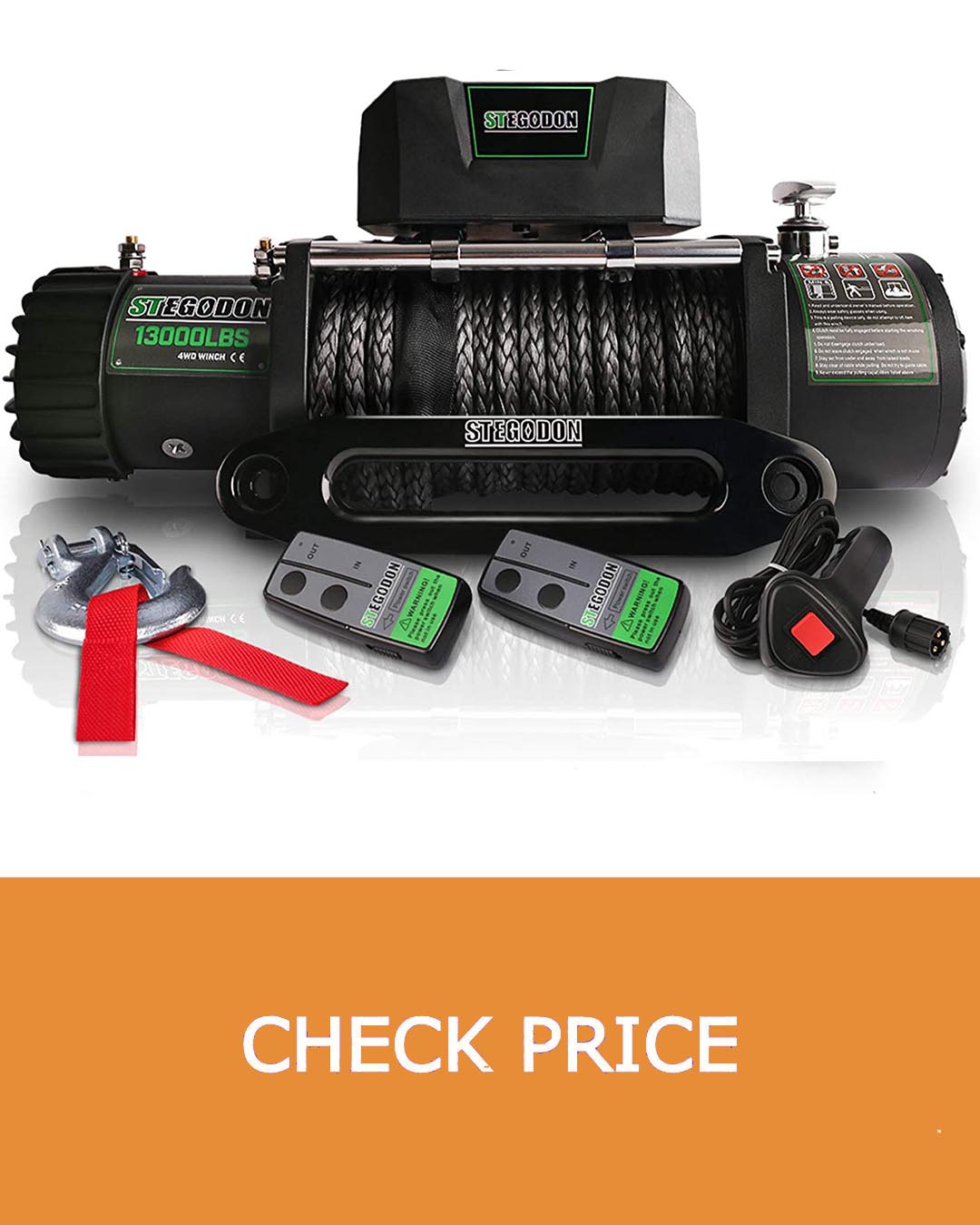 Why we love it:
Winding speed of 25.2 ft/minute when empty and 7 ft/minute when fully loaded
Clutch brake system for delicate control
A decent 6.4 hp electric motor
IP67X waterproof and sand proof
Comes with lifetime technical support and a one-year limited warranty

| Pros | Cons |
| --- | --- |
| ✔️Quiet and Smooth | ❌Battery cables are not long enough |
| ✔️Great winch for its price | ❌A little tricky to install if you have never installed a winch before |
| ✔️Looks great | ❌Hard to wire it properly |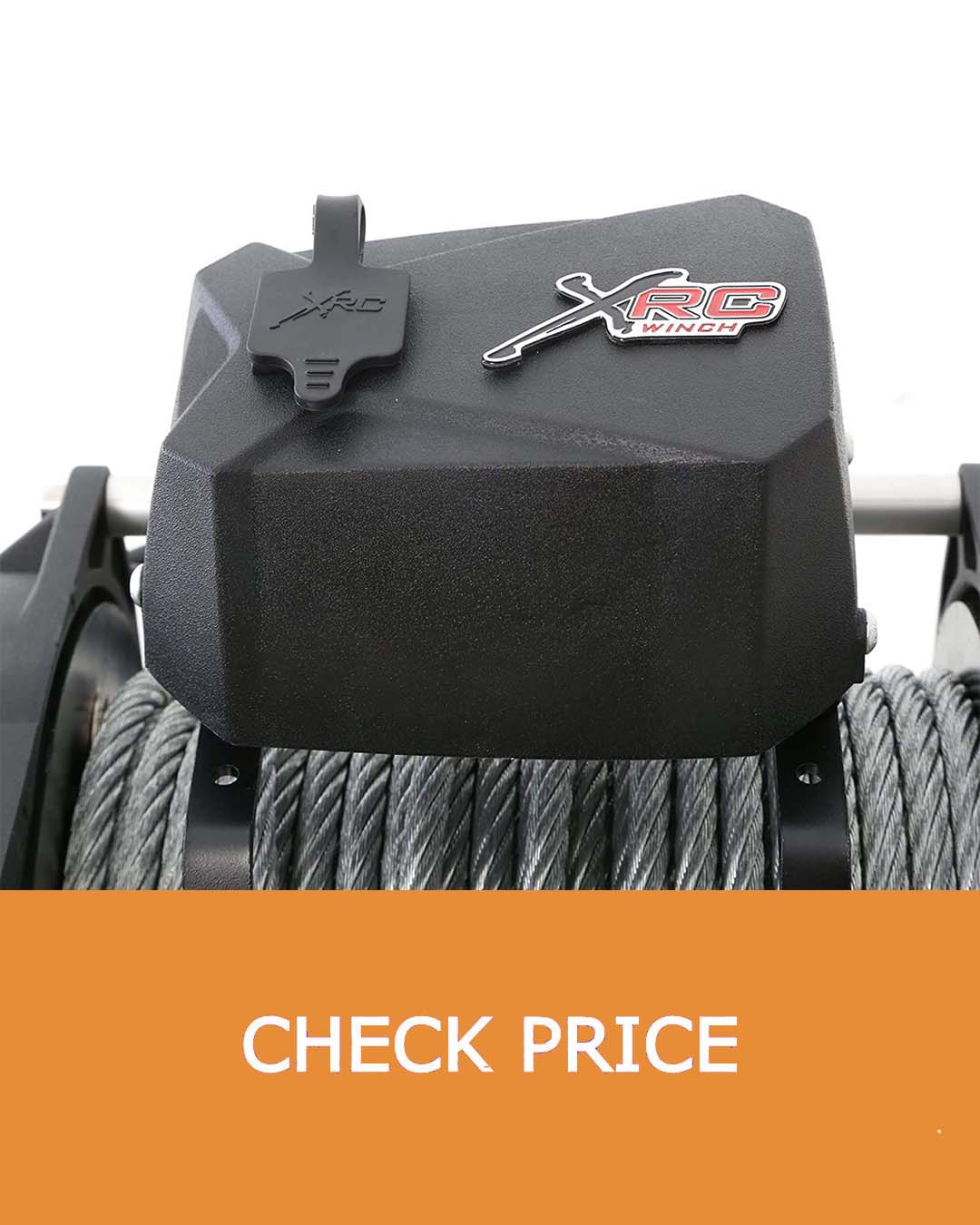 Why we love it:
Has 15,500 lbs of load capacity
Fairly inexpensive as compared to its competitors
Comes with all wiring required for an easy installation
Dual-stage products come with a 5-year or 100,000 miles warranty
Come with Steel-rope and hammer-forged hook to deal with heavy loads

| Pros | Cons |
| --- | --- |
| ✔️Inexpensive as compared to Warn Winch | ❌Unreliable Water Resistance |
| ✔️Great Customer Service | ❌Clutch has trouble going into free spool |
| ✔️Easy to Operate | ❌Quite bulky in size |
Conclusion:
This concludes our article on the best Jeep winch. We have compiled this list after conducting extensive research on the Jeep winch reviews. We believe that you will be able to decide which jeep winch is ideal for your Jeep considering all of their applications.
So go get your favorite Winch for Jeep and explore new terrains. And remember, we always got your back! Happy Jeeping!
Frequently Asked Questions
Q1. How many winch do I need for my Jeep?
You should opt for a winch that has a loading capacity of 1.5 times the weight of your vehicle. The jeep wranglers weigh about 2,500 lbs to 5,000 lbs. So you should opt for a winch that has a loading capacity of 8,000 lbs or more.
Q2. What pound winch for Jeep?
lbs and pounds are basically the same things. So you should opt for a winch of 8,000 pounds or more.
Q3. What is a winch used for on a Jeep?
If you own a Jeep, then you probably like offroading. Vehicles often get stuck in mud or snow while exploring new terrains. A winch is a tool that is used to get them unstuck by combining them to another vehicle and pulling.