I hope you agree with me when I say:
It is hard for a Jeep Lover to imagine a Jeep without a Winch.
With that being said, you might wonder what is the best Jeep Winch. Well, you do not have to worry because we have compiled a list of the finest winches for Jeep wrangler.
How to mount a Winch onto a Jeep?
Installing a Winch is not as tricky as some people make it to be. You just need clear instructions and anyone can do it. You just need to make sure that the winch is mounted on the frame and not the bumper of your Jeep for the best possible fit. Now, lets get on with the installation.
Step 1: Once you are done with locating the best position to mount your Winch. You just have to drill the holes where you want to place the winch. Some rock-solid after-market bumpers come with pre-drilled holes for winch installation. They are mounted directly on the frame of your Jeep and serve as a part of it. But if you are not using one of those bumpers, you mount the Winch between the grill and bumper of your Jeep.
Step 2:  Once you're done with drilling the holes in the bumper, the next step is to align the Winch with the holes on the bumper. Put the bolts in and before you tighten them, you need to take one thing into account. You need to make sure that the winch is resting against the bumper. Otherwise, it will move as soon as you use it.
Step 3: Then you just need to tighten the bolts and then release the clutch.  Pull out about 3-5 inches of the wire so that you can install the ferret. Then just install the ferret and then install the hook.
Step 4: Now comes the wiring part. This is a bit tricky because people do not know where the ground wire will go.  It usually goes on the vehicle body earth but different manufacturers recommend different places for it. If the manufacturer suggests some other place, then you should go with that. After that, just plug the positive and negative wires into the battery and you're good to go.
We have compiled this list after conducting extensive research on the Jeep Winch reviews and every aspect needed for a Winch to be ideal for a Jeep. We have also included a step-by-step guide on how to install a winch on a Jeep and an FAQ section at the end. Make sure to hang with us till the end for detailed information on Jeep winches and Jeep winch reviews.
Best Jeep Winch in 2021:
Here are our top picks for the finest Winches for Jeep
1. Warn 12V DC Winch
Why we love it:
You can choose between Synthetic and Steel rope
Has 12,000 lbs of load capacity
IP-68 waterproof for durability in all types of weather
Powerful motor to deliver faster line speed
Two-in-one remote for wired and wireless control
| Pros | Cons |
| --- | --- |
| ✔️Super Easy to Install | ❌Wireless Remote battery is unreliable |
| ✔️Fast Speed Winch | ❌Quite Expensive as compared to other Winch |
| ✔️High Quality Rope | |
Warn is one of the most esteemed winch-making brands. It produces the best Jeep winches in the market currently. It has a long-build reputation for making durable winches that are reliable. Their reputation is backed up by its huge number of positive jeep winch reviews. That is why this 12V Warn Winch is our top pick for the best winch for jeep.
Pulling Capacity:
This Warn winch has a pulling capacity of 12000 lbs. This amount is more than enough of what is needed for a winch to be suitable for four-door full-sized Jeeps or SUVs. The load capacity of this winch is also ideal for 3/4 to 1-ton trucks and all of the other large frame vehicles.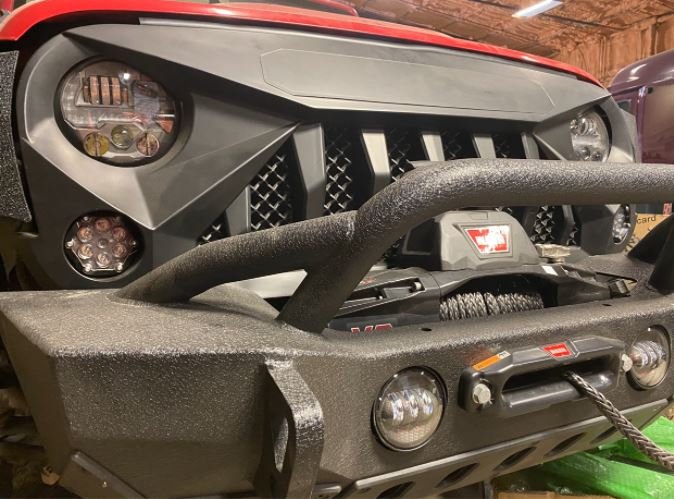 This winch comes with a range of pulling capacities which are 8000, 10000, and 12000 lbs. So if you own a smaller two-door sport Jeep, we recommend you go with the 8000 lbs Warn winch and save a little money on the way because you do not need the extra pulling strength in that case.
Contactor:
The contactor is basically a huge switch and its main purpose is to handle high currents. It is triggered by a much smaller switch which is why winches make a clicking sound when they are activated. Warn 12V Winch features a powerful high-quality Albright Contactor for maximum reliability.
Albright contactor delivers a continuous current of 100 amps and an intermittent current of 400 amps. These contactors have excellent conductivity because of the weld-resistant silver alloy contact tips. The contactor is located within the control pack and can be relocated for low-profile installations.
Waterproof:
This warn winch is made with an IP68 waterproof design. This means that this winch can withstand dust, dirt, and sand easily. In addition to that, it is waterproof for thirty minutes if it is submerged in water with a depth of 1.5 meters.
This feature is a great plus point for any Jeep winch because Jeeps are offroad vehicles. They are mostly used to explore muddy, sandy, and terrains with rough weather conditions. Sinch the winch is located at the front bumper, it can even get submerged in water or mud.
Now, what if your Jeep gets stuck in mud or deep snow? You need a winch that is reliable and gets you unstuck. We recommend you go for the Warn winch because it is reliable and a top-rated jeep winch.
 Synthetic or Steel Wire:
You get to choose if you want your Warn Jeep Winch to use a synthetic rope or a steel rope. We will explain the pros and cons of both synthetic and steel rope so you can decide for yourself. The synthetic rope is comparatively lighter as compared to the steel rope and is comparatively safer. Synthetic rope does not become much of a projectile if it breaks because of its significantly lighter weight.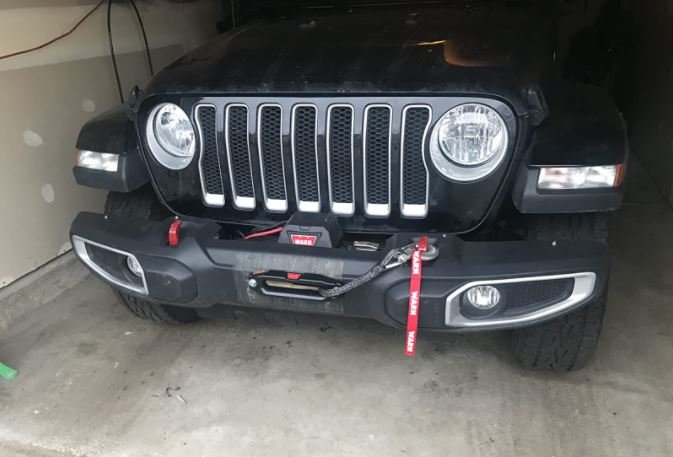 On the other hand, steel rope is a lot heavier and heavy-duty as compared to synthetic rope. It is less exposed to wearing and abrasion because of its construction material. It also packs comparatively more potential energy as compared to the Synthetic wire. Now it is up to you to decide whether you want a synthetic rope winch or a steel rope one.
Two-in-one remote:
This top-rated Jeep winch comes with a two-in-one remote controller. You can operate the winch wirelessly for safe usage. It is a better idea to use the wireless remote when operating with heavy loads for preventing any safety hazards. But that should not be a problem as soon as you're doing it with care.
You can also opt to connect it using a long cord and operate the winch with a wired remote in case your remote's battery dies. The wireless batteries are non-rechargeable and kind of tricky to find a replacement for them. So we will recommend you to use it wired where wireless operation is not necessary.
If you are a Jeep Wrangler fan, we recommend you take a look at our informational guide on anti-spin differential axles. 
Price:
Any good product comes with an expensive price tag and it is true for this Warn Winch too. It is a lot more expensive as compared to its competitors but there is also a significant difference in its performance and durability. So, if money is not an issue for you and you are looking to make a big but one-time investment on a winch, we highly recommend you opt for the Warn Winch.
2. Smittybilt Gen 2 XRC Winch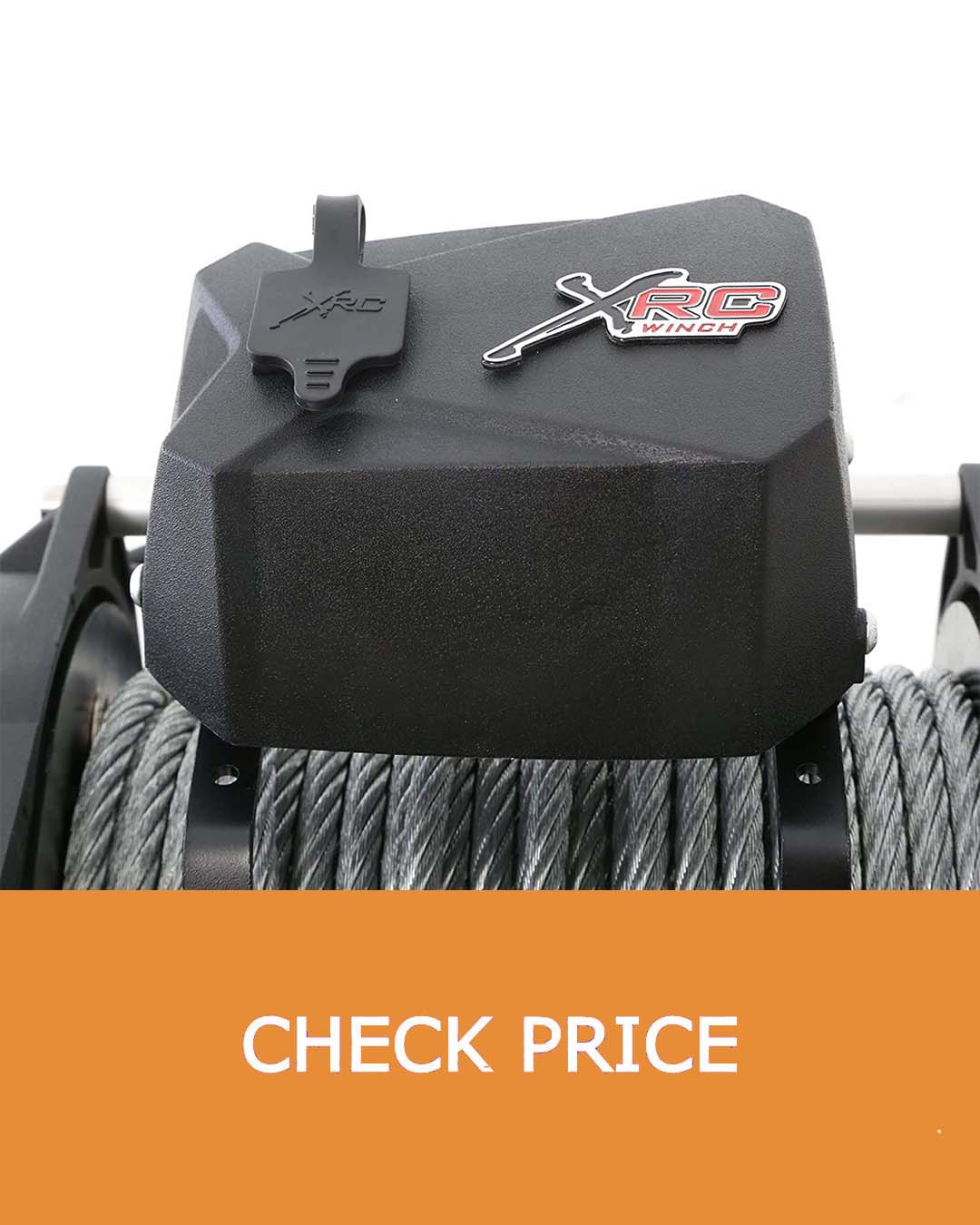 Why we love it:
Has 15,500 lbs of load capacity
Fairly inexpensive as compared to its competitors
Comes with all wiring required for an easy installation
Dual-stage products come with a 5-year or 100,000 miles warranty
Come with Steel-rope and hammer-forged hook to deal with heavy loads
| Pros | Cons |
| --- | --- |
| ✔️Inexpensive as compared to Warn Winch | ❌Unreliable Water Resistance |
| ✔️Great Customer Service | ❌Clutch has trouble going into free spool |
| ✔️Easy to Operate | ❌Quite bulky in size |
Smittybilt Gen 2 XRC Winch comes in at second in our list of the best winch for Jeep. This winch for jeep wrangler also comes with a wide range of load capacities ranging from 9500 lbs to 17500 lbs. Only one of these load capacities winch (12000 lbs) offers a synthetic rope. All of the other load capacity winches come with a steel rope.
IP67 Waterproof:
The Smittybilt XRC Winch is IP67-rated waterproof. This means that the winch is designed in such a way that it is strongly protected against dust and sand. Other than that, it can withstand submersion under the water at a depth of 15cm to one meter for thirty minutes.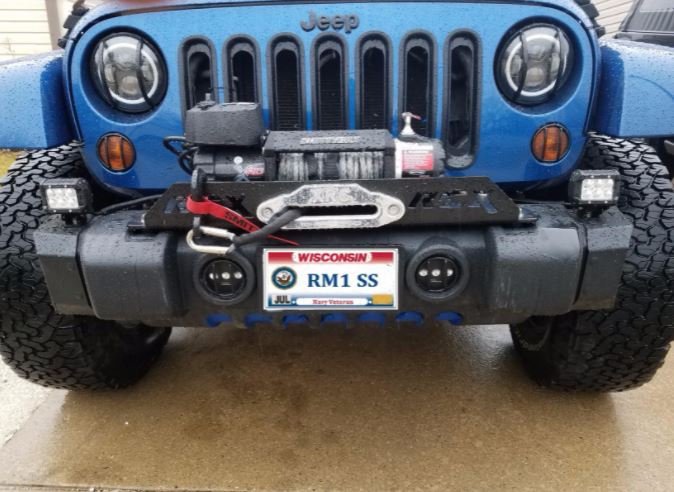 It is lesser as compared to the Warn Winch which is IP68 waterproof. But you do not have to worry because the IP67 waterproof rating is enough for your winch to withstand harsh weather conditions like in a rainforest or even on muddy terrain. If you drive your Jeep on snowy or sandy terrains, there is nothing to be worried about, this winch will stand tall.
Fairleads:
A four-way roller fairlead is used for the winches that use a steel rope. The synthetic rope winch, on the other hand, uses an aluminum fairlead. Fairlead is a crucial part of the winch as it keeps the rope in its place and guides it. It also prevents the rope from moving sideways and decreases the strain that is put directly on the winch. The fairlead also provides additional protection to the rope from abrasion.
Also, check out our informational article on Jeep Wrangler Factory radio specs
Installation:
The Smittybilt winch is super easy to install but we recommend you get a professional to do it if you have not installed a winch before. The reason is that the wires might come short if you do not follow the instructions carefully. The many mounting options of the solenoid are a help but make sure to wire the solenoid before mounting it onto your bumper. If you forget to do that, you will just have to remove it and do it all over again. The cables are copper welding quality which offers great conductance and is a great feature if you consider the winch's low price.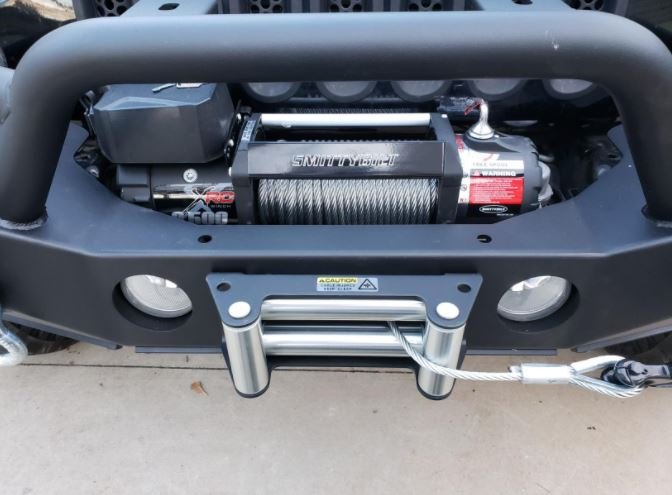 Mounting options:
The only con of this top-rated winch for jeep is the mounting options of the control box. The control box is located directly above the cable and it can be dangerous if not operated carefully. The other mounting options have the same issue. You should extend the wires yourself and mount it in the engine compartment for better and safer use.
3. Smittybilt X20 Winch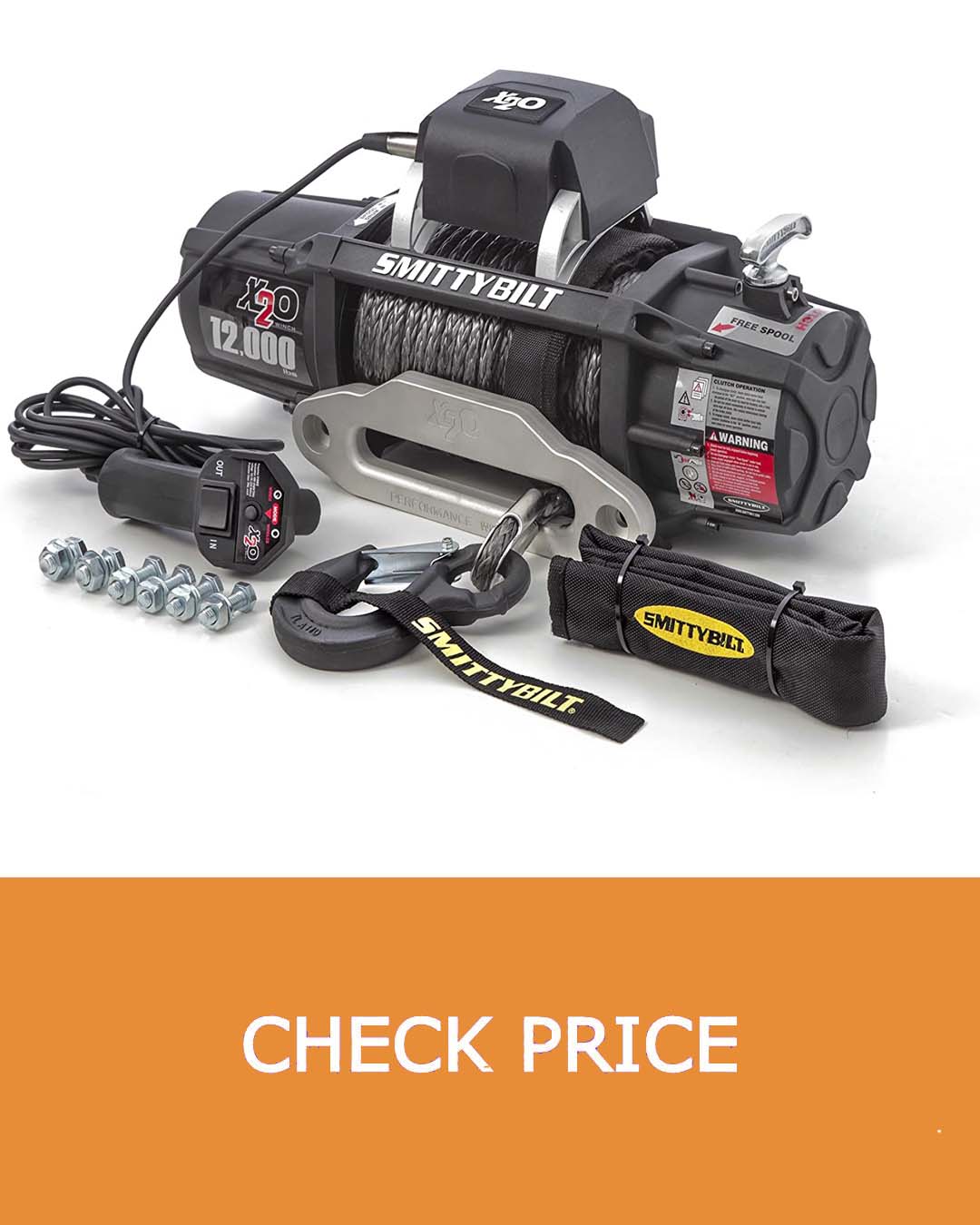 Why we love it:
Winch can be operated via a wireless remote or manually
Comes with a lifetime mechanical warranty and a 5-year electrical warranty
Uses synthetic rope and forged hook for sustaining heavy loads without snapping
Comes with all power cables required for its installation
Stainless steel hardware for increased durability
| Pros | Cons |
| --- | --- |
| ✔️Strong Build Quality | ❌The remote replacement is quite expensive if you lose it |
| ✔️Great wireless remote | ❌Tricky to install for some people |
| ✔️Impressive Speed | |
Coming in at third is another winch by Smittybilt named the X20 winch. You might wonder about the difference between this X20 winch and the XRC winch by SmittyBilt that we discussed earlier. Well, here is the difference:
Price and Load capacity:
The Smittybilt XRC winch that we discussed earlier is cheaper as compared to the X20 winch and the XRC winch offers even more load capacity.
The load capacity of the XRC winch is 15,500 lbs whereas the load capacity of the X20 winch is 12,000 lbs. This difference does not matter as long as you are mounting any of these winches on a jeep wrangler. But the difference may come into consideration while pulling something heavier.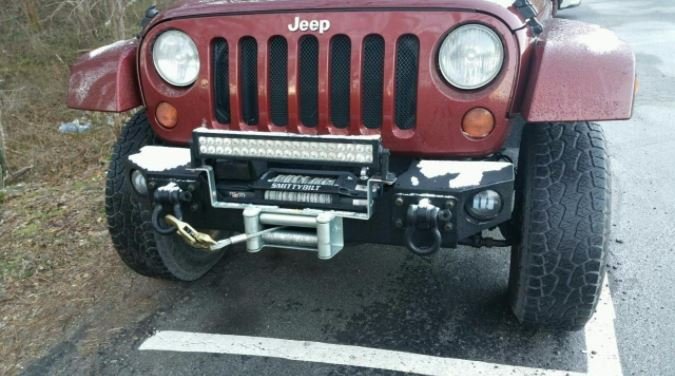 Synthetic and Steel Rope:
The XRC winch that we reviewed earlier only comes with a steel rope whereas the X20 rope comes with a synthetic rope. It all comes down to your preference whether you want a synthetic rope winch or a steel rope winch. But most people prefer synthetic rope because of its lightweight and increased safety that it brings to the table. The steel rope packs more potential energy and can become a projectile and hit someone close by if it snaps.
Waterproof rating:
It has a waterproof rating of IP68 which is the same as our top pick, the Warn 12V winch. It is also better as compared to the XRC winch which has a waterproof rating of IP67. So, feel free to go full off-road into muddy and snowy terrains without any fear. Because if you get stuck, this winch will get you out as it is reliable enough to work well in tough weather conditions and harsh terrains.
Pulling power:
Both of the X20 and XRC winches by Smittybilt use the same 6.6 hp high-quality series wound motor combined with a three-stage planetary gear system. The series-wound motor draws out a significant amount of current. On the other hand, the planetary gear system provides high efficiency and great torque-to-weight ratio in a much more compact size. Both of these features combined offer great pulling power and the impressive line speed that you wish for.
Although the X20 Winch is more expensive as compared to the XRC winch for Jeep, it makes up for it with its additional great features and is a top-notch winch for jeep.
4. ZEAK 13000lb  Electrical Winch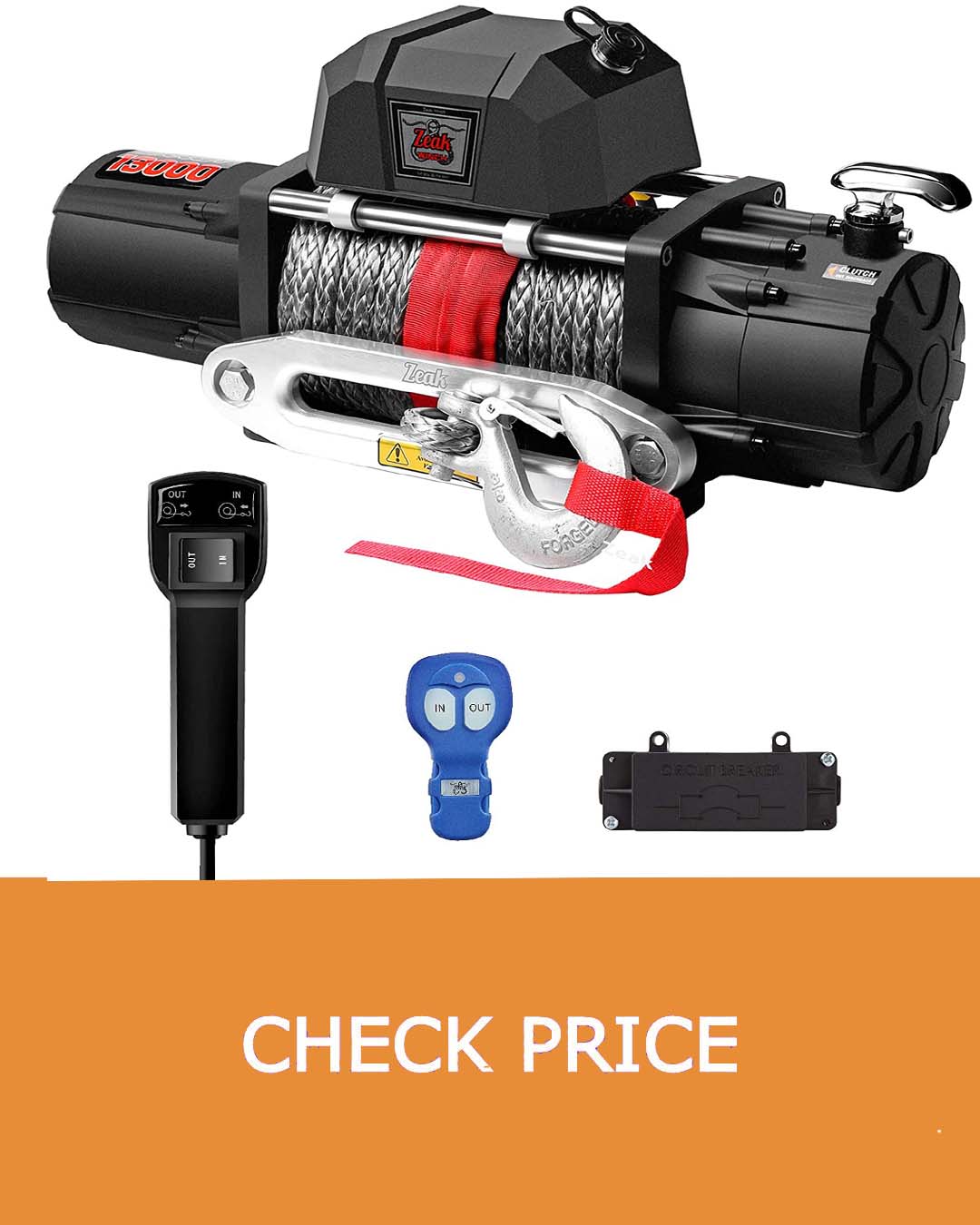 Why we love it:
3-stage planetary steel gear provides a strong pulling power
6.2 hp powerful electric motor
Weather-sealed solenoid makes it IP68 waterproof
Comes with a One-year limited warranty
Comes with both wireless and handle remote
| Pros | Cons |
| --- | --- |
| ✔️IP68 Waterproof | ❌Loud if you do not grease the gears yourself |
| ✔️One-year warranty | ❌Unreliable remote Connector |
| ✔️Heavy-duty power cables | |
ZEAK 13000 lb winch is the finest budget winch for jeep because of its significantly low price and great performance which is on par with its competitors. If we talk about its compatibility, It fits all the Jeep Wranglers, SUVs, and any other vehicle with a higher base. So let us discuss its technical features in more detail.
Pulling Strength:
The ZEAK 13000 lbs winch also features a three-stage planetary steel gear system as the Smittybilt winches. These gears are durable and reliable to get you out of the muddy terrains with ease. But, this winch uses a 6.2 hp series electric motor which is lesser as compared to the 6.6 hp motor used in the Smittybilt winches.
It has a line speed of 21.3 ft/minute when empty and 4 ft/minute when fully loaded. But if you look at this considering the significant difference in its price and the X20 or XRC Smittybilt winches, this certainly proves to be a great budget winch for jeep.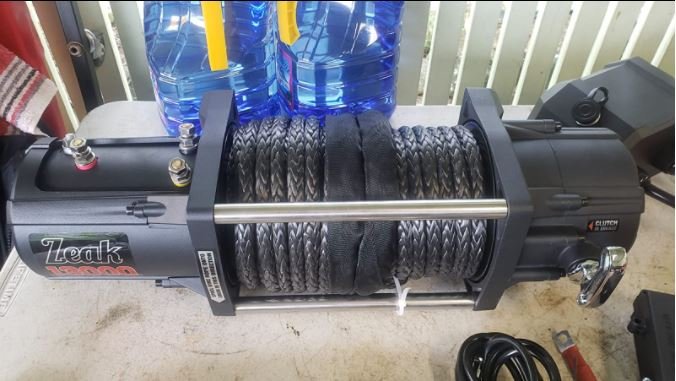 Warranty and Installation:
ZEAK 13000 lbs Electric Winch comes with a one-year limited warranty. You can easily test the winch within this period of time and just request a replacement if your winch does not work as you defined. The installation of this winch can be tricky for some people which is why we recommend you have a professional do it for you. If you get the wires wrong, the winch can result in having a short circuit. You need to carefully read the instructions if you are installing it yourself.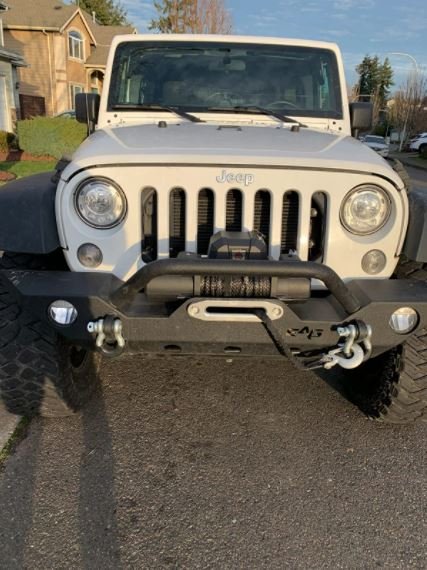 Synthetic Rope and water-resistance:
This Winch features a synthetic rope so you can operate it without the fear of it becoming a projectile and hitting someone if it snaps. It also uses a Hawse fairlead to reduce abrasion and wear so the rope lasts long. It is constructed with an all-metal IP68 waterproof design to ensure great resistance and protection from sand, mud, and water for up to 1.5 meters.
5. Offroad Boar 9500lb Winch for Jeep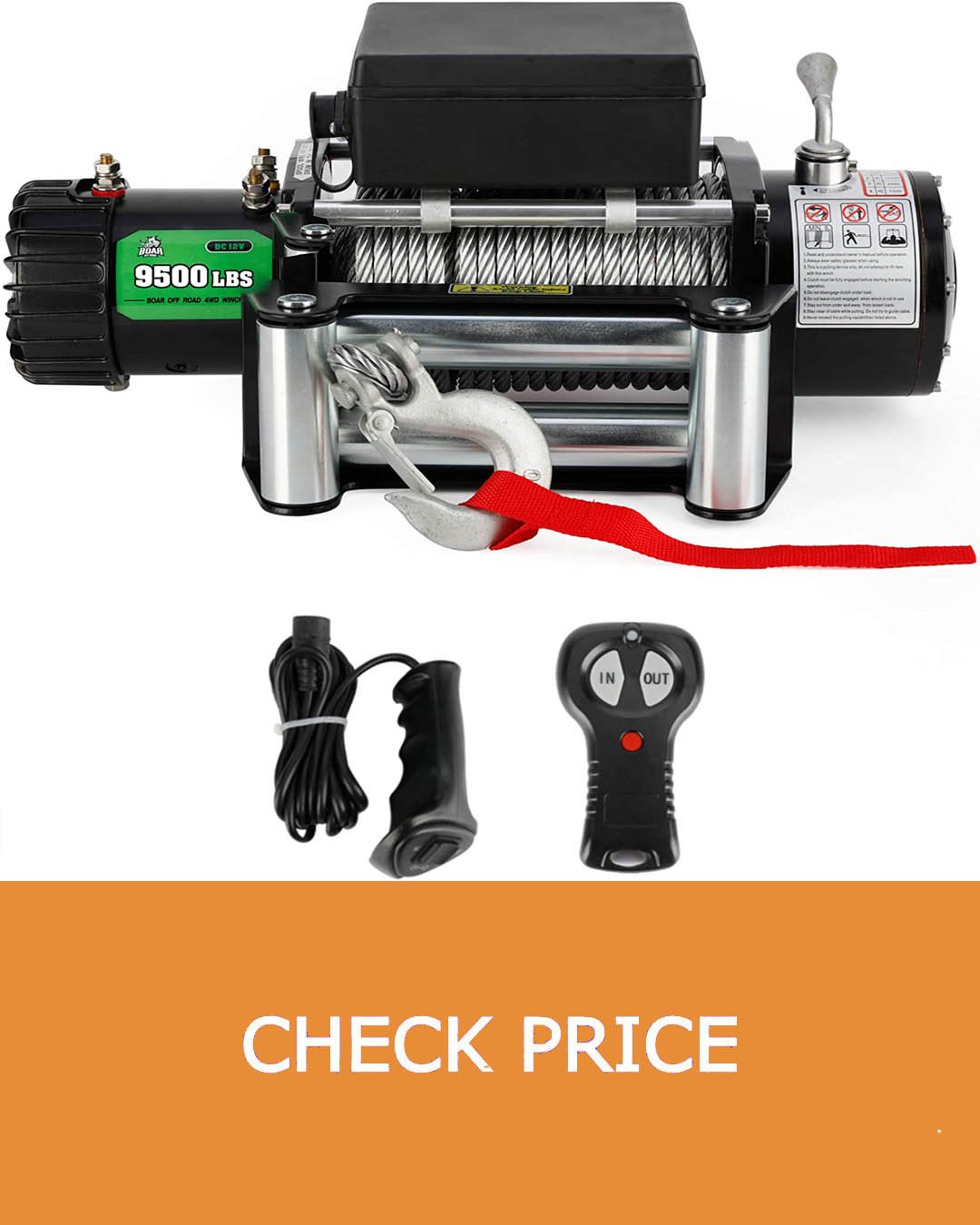 Why we love it:
Has a tractive force of 9500 lbs
Made with low ampere permanent magnet motors for fast linear speed
Uses enhanced Anti-rotation wire rope
Heavy-duty Alloy forged hook
| Pros | Cons |
| --- | --- |
| ✔️The remote switch works great | ❌Respooling the winch cable can be troubling |
| ✔️Cheap as compared to many competitors | ❌The battery cable for the positive side can be short |
| ✔️Synthetic rope | |
| ✔️Easy to install | |
Offroad Boar 9500 lbs Winch is another top-rated cheap winch for Jeep. It is even less expensive than the ZEAK electric winch. But as you can see, this is because of the lesser load capacity of the Offroad boar Winch. The offroad Boar winch has a load capacity of 9500 lbs as compared to the 13000 lbs pulling capacity of the ZEAK electric winch.
A choice between rope material:
Like most of the other finest winch for Jeep Wrangler, The Off-Road Boar winch also gives the customer a choice to choose between a synthetic rope or a steel rope. The price increases by just a few bucks if you opt for the synthetic rope. But it is a lot safer as compared to the steel rope.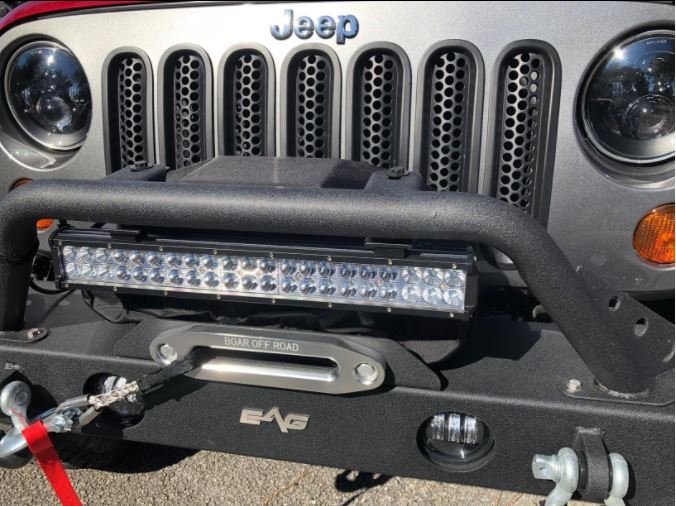 Lightweight but powerful:
The Offroad Boar lightweight Jeep winch weighs only 61.9 pounds. And its compact size makes it great for mounting on smaller and 2-door Jeep wranglers. But this does not mean that it cannot mount on the bigger models. It uses a 5.5 hp series winding motor combines with a 3-stage planetary gear system to provide you with fast linear speed and powerful winding.
The motor is a bit weaker as compared to its competitors which use motors of 6.0 hp or more but it is decent if we look at its smaller load capacity. But do not get fooled by its low loading capacity. It is still more than enough for it to become a great lightweight jeep winch.
Construction Material:
The 5.5 hp motor is made of pure copper material to provide a large amount of current. In addition to that, it uses a 10-inch billet aluminum hawse fairlead for the synthetic rope to reduce wear and abrasion. On the other hand, it uses a roller fairlead for the steel rope to keep it in place and reduce the strain on the winch. The durable alloy-forged hook is a cherry on top that can be used as it is. It saves you from spending extra money on a replacement for the hook as you have to do for most of the other winches today.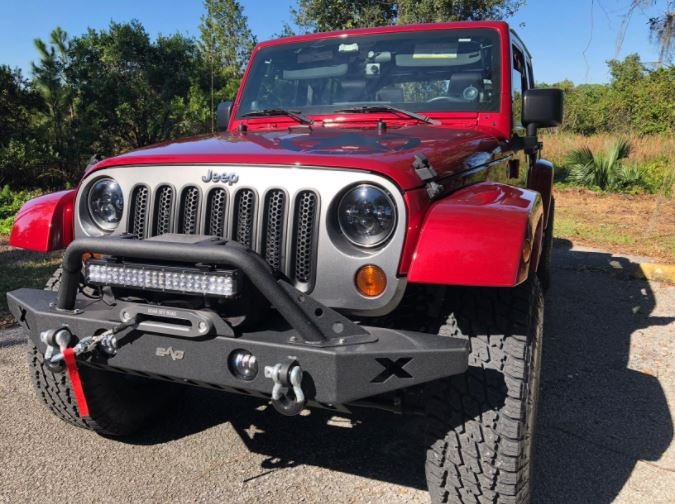 Wireless and Wired remote:
This winch comes with a two-in-one remote that can be used wireless or wired. You can operate the winch with the wireless remote for additional safety. But if the battery of the wireless remote dies, you can just connect it to the winch using a wire cord that also comes with it and operate the winch seamlessly.
6. RUGCEL 13500 lbs Winch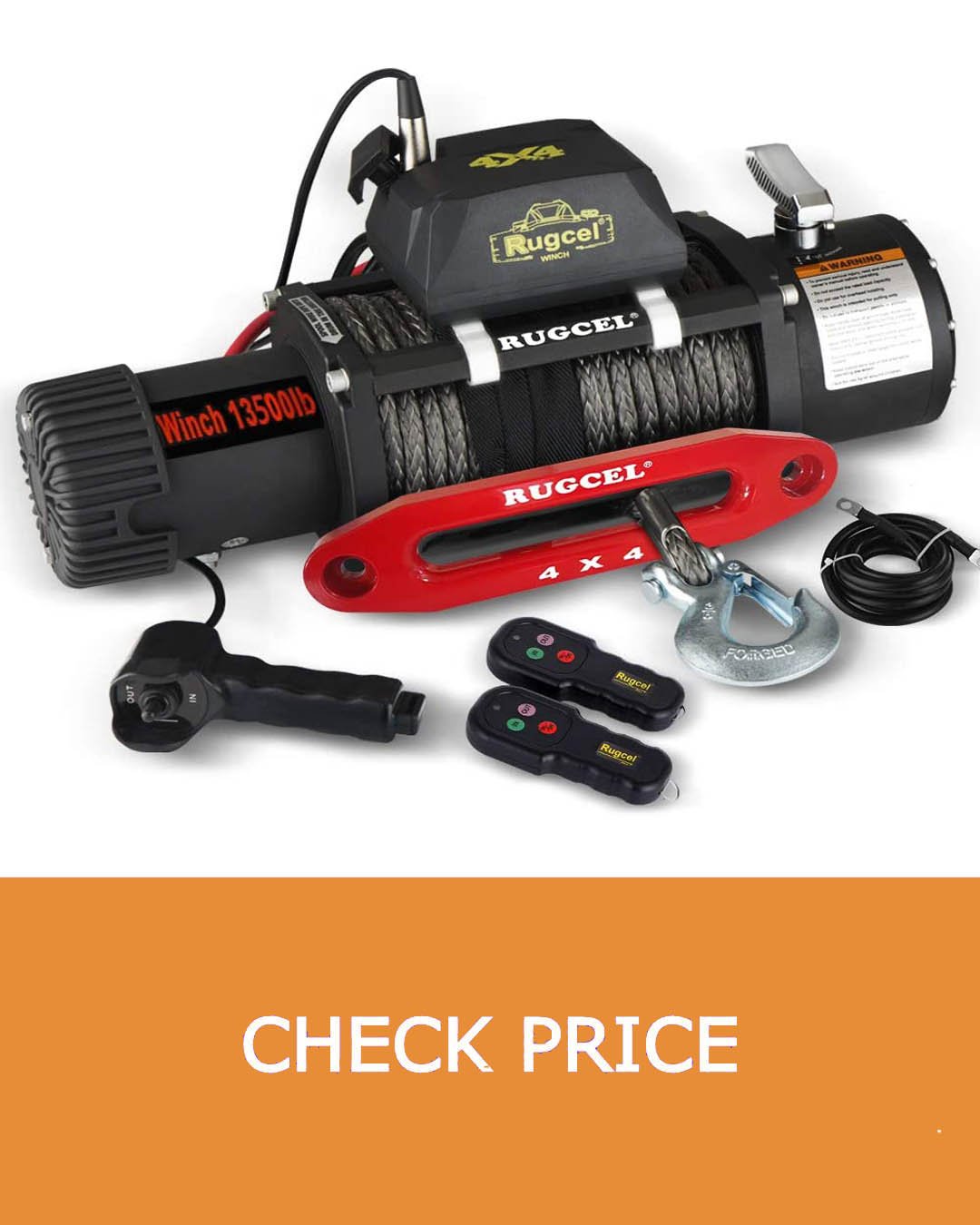 Why we love it:
High quality 7.2 hp 12V motor
It is waterproof and also comes with a double waterproof capstan cover
Both mechanical and dynamic braking for increased control while winding
Comes with an instruction manual to operate it properly
Has a one-year warranty for its electrical components
| Pros | Cons |
| --- | --- |
| ✔️Great construction Quality | ❌Does not have a brake when it needs to be put in neutral |
| ✔️Super Easy to install | ❌The controller is not waterproof |
| ✔️Heavy-duty synthetic rope | ❌Not great for long intervals of use |
| ✔️Wireless and Wired remote work great | |
The RUGCEL 13500 lbs Winch is another powerful budget for Jeep. Its loading capacity is more or less the same as some of the other Winches for Jeep Wrangler but it excels in its linear speed and pulling strength.
Motor:
This winch features a 7.2 ho series wounding motor which is more powerful as compared to most of the Jeep wrangler winch which features motors of 6.0-6.6 hp. It also uses a three-stage planetary gear system just like the other winches combined with the free spooling clutch. The free spooling clutch allows the user to stop the motor at any time and pull out as much wire as needed manually.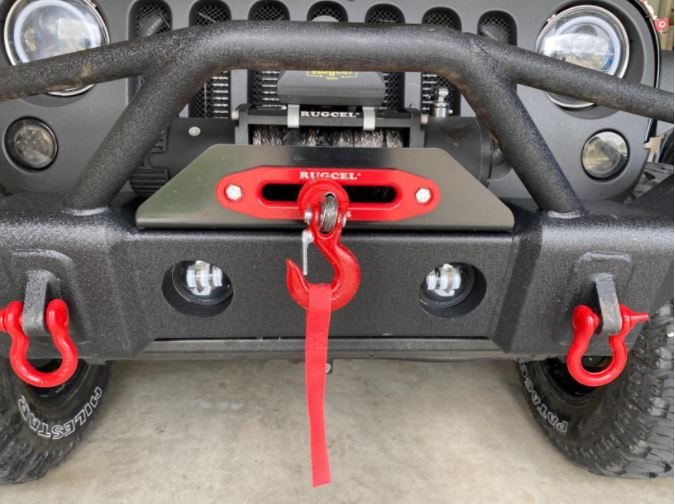 Synthetic Rope and Winch Relay:
This winch comes with 100ft of high-quality Nylon rope.  The lightweight Nylon rope will not snap even under long-term use under heavy loads. Most winches use a solenoid for the operation of the winch. But RUGCELL winch, on the other hand, uses a winch relay technology. This provides improved control, durability, and reliability. You can rely on this winch to get your stuck jeep and yourself out of misery at any time.
Water resistance:
The RUGCELL 13500 lbs Winch is also IP68 waterproof which is very surprising for a winch of its price. In addition to that, the winch also comes with an additional waterproof cover to ensure increased water and dust resistance. You can explore different types of terrains in different weather without worrying about the winch.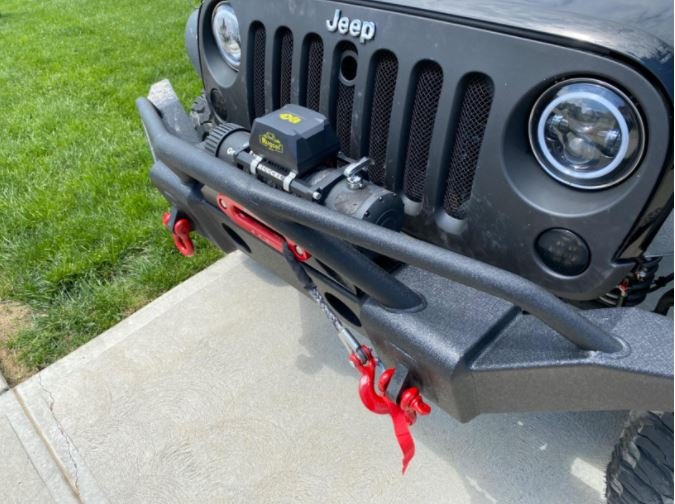 Warranty:
The electrical components of the RUGCELL winch come with a one-year warranty. If any electrical component breaks down, you can get it replaced for free at any time. Its installation can be a little tricky for new users and it can cause a short circuit if the wiring is done wrong. We recommend you get a professional to do it for your Jeep.
7. Stegodon 13000 lbs Winch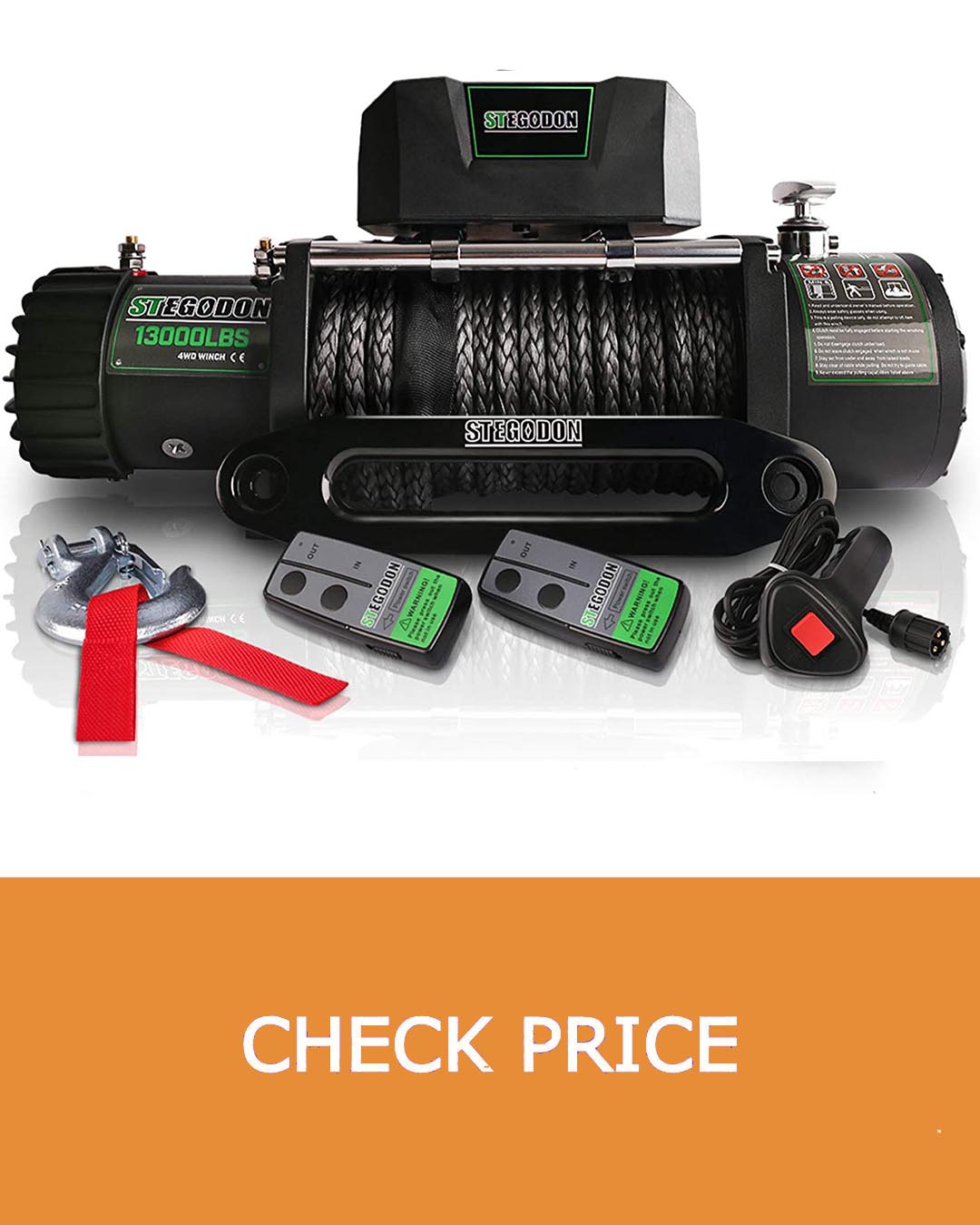 Why we love it:
Winding speed of 25.2 ft/minute when empty and 7 ft/minute when fully loaded
Clutch brake system for delicate control
A decent 6.4 hp electric motor
IP67X waterproof and sand proof
Comes with lifetime technical support and a one-year limited warranty
| Pros | Cons |
| --- | --- |
| ✔️Quiet and Smooth | ❌Battery cables are not long enough |
| ✔️Great winch for its price | ❌A little tricky to install if you have never installed a winch before |
| ✔️Looks great | ❌Hard to wire it properly |
Stegodon is a top-tier budget winch for Jeep wranglers. It has gained popularity for its fast winding speed and great reliability. Its price is comparable to its competitors but it stands out in some aspects that the other winches lack.
Winding Speed:
The Stegodon 13000 lbs winch offers a faster-winding speed than any of its competitors. This because of the 6.4 hp series winding motor and 3-stage planetary gear system. The 500 amp solenoid and a sealed contactor provide high-efficiency winding. The winding speed of the Stegodon 13000 lbs winch is 25.2 ft/minute when it is empty and 7 ft/minute when it is fully loaded.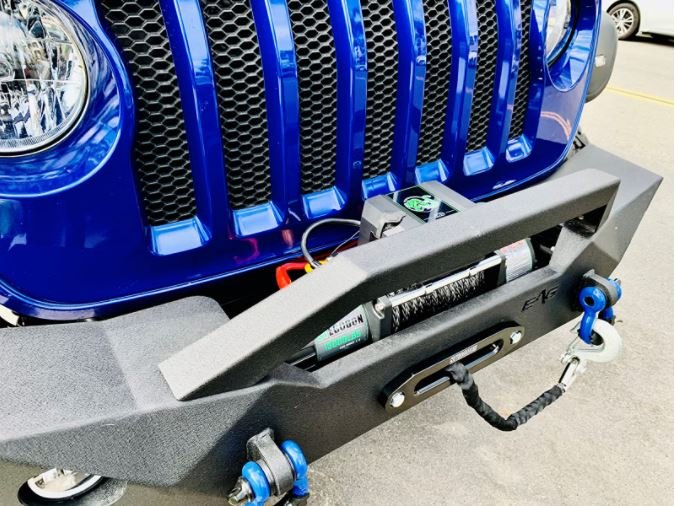 Free Spooling Clutch:
The gear system uses a free spooling clutch mechanism. This means that you can disengage the motor and pull out as much wire as you need at any time. This feature will come in handy if you live in the countryside and your Jeep gets stuck in mud quite often.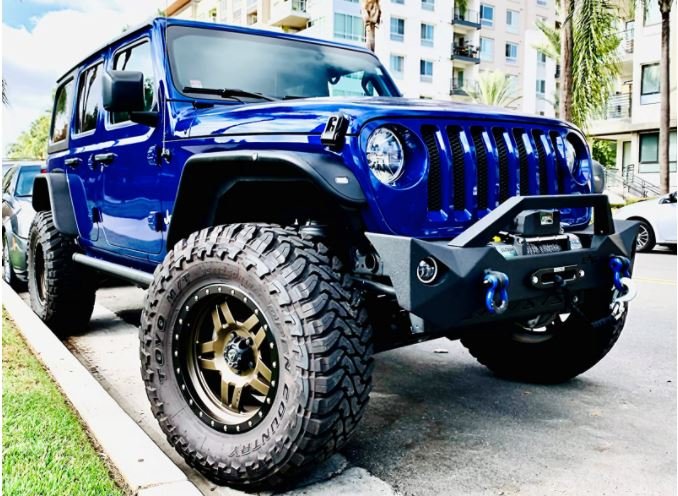 Great warranty:
The Stegodon 13000 lbs winch comes with a one-year warranty for its electrical components and lifetime technical customer support. So, if you cannot figure out how to mount it properly, just give them a call and they will help you with it. Or even if there is an issue during the buying period, contact their customer support and they will provide you with great and timely service.
Conclusion:
This concludes our article on the best Jeep winch. We have compiled this list after conducting extensive research on the Jeep winch reviews. We believe that you will be able to decide which jeep winch is ideal for your Jeep considering all of their applications.
So go get your favorite Winch for Jeep and explore new terrains. And remember, we always got your back! Happy Jeeping!
Frequently Asked Questions
Q1. How many winch do I need for my Jeep?
You should opt for a winch that has a loading capacity of 1.5 times the weight of your vehicle. The jeep wranglers weigh about 2,500 lbs to 5,000 lbs. So you should opt for a winch that has a loading capacity of 8,000 lbs or more.
Q2. What pound winch for Jeep?
lbs and pounds are basically the same things. So you should opt for a winch of 8,000 pounds or more.
Q3. What is a winch used for on a Jeep?
If you own a Jeep, then you probably like offroading. Vehicles often get stuck in mud or snow while exploring new terrains. A winch is a tool that is used to get them unstuck by combining them to another vehicle and pulling.